The registeration for the 2021 UTME has started, this article will guide you on how to register for JAMB 2021 easily without any mistake.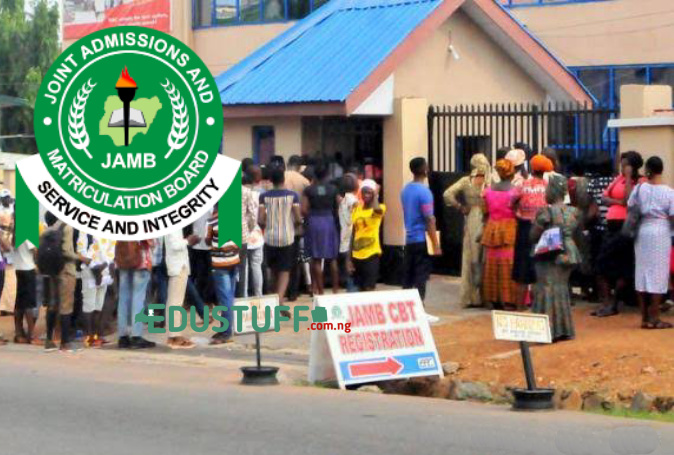 You'll also get to know the price for JAMB form for 2021, registeration requirements, JAMB Registeration centres (Approved) and other information on Edustuff concerning the Unified Tertiary Matriculation Examination (UTME). How to register for JAMB.
How To Register For JAMB 2021 UTME
Make sure you follow the procedures below to register for JAMB 2021 UTME:
Make your email account available (active one) create an email account if you've non.
Get active Personal phone number
Enrol for National Identification Number (NIN): JAMB has made the use of NIN mandatory for JAMB Registeration, so enrol for NIN if you don't have, don't use another person's NIN for your JAMB Registeration. (Recommended: How to Apply for National Identification Number (NIN) Easily In Nigeria | Explained).
Create Profile Code: For JAMB 2021 registeration, Candidate will send his/her National Identification Number (NIN) by text (SMS) to 55019 from his/her personal GSM number. E.g. write the word "NIN" then space and add your 11 digit NIN Number and send to 55019 in this format (NIN 00123456789), this is according to JAMB statement which reads: "We don't even require the name of the candidate, we just want the NIN. We will then do the needful to pull the data of the candidate and the process will go on from there."
A Profile Code of 10 characters is received by the candidate on the same telephone (SIM) number
Visit the JAMB website and proceed to create a JAMB profile.
Buy JAMB e-pin: Purchase your 2021 JAMB e-pin registration from bank by presenting the profile code to the point of procurement of form (Banks, MMOs, MFBs, Switches, USSD Partners). Banks like, Zenith Bank Plc, Skye Bank Plc, First Bank. The form e-PIN is then sent as text message to the candidate.
Visit an accredited Jamb centre to complete registration
Check JAMB IBASS eligibility checker: This will show you if will be eligible for the course or instituion you want to choose (Recommended: JAMB IBASS Eligibility Checker 2021 For Course and Institutions)
Fill the JAMB form carefully and correctly.
How Much Is JAMB Form 2021?
JAMB Registration Fee – N3,500
Recommended Reading Textbook – N500
Recommended: The Life Changer JAMB Novel PDF Summary Questions/Answers 2021 UTME
Things You'll Get After Jamb Registration
After succesfull registeration, you'll be given the following;
Jamb Recommended Novel for Use of English
Jamb e-brochure and Syllabus
e-slip as evidence of Successful registration.
A Video messages from Jamb Registrar
e-slip as evidence of Successful registration.
Should you need any further assistance on JAMB Registeration, Edustuff is ready to help you.
Good luck.

Don't hesitate to like, share this article using any of the Social media share buttons and drop a comment in the section below.