Npower Biometric Verification Enrollment: The Npower Batch C Stream 2 Applicants who passed the Npower NASIMS tests has been asked to verify some of their details and do Biometrics Fingerprint Enrollment via https://nasims.gov.ng, nasims gov ng.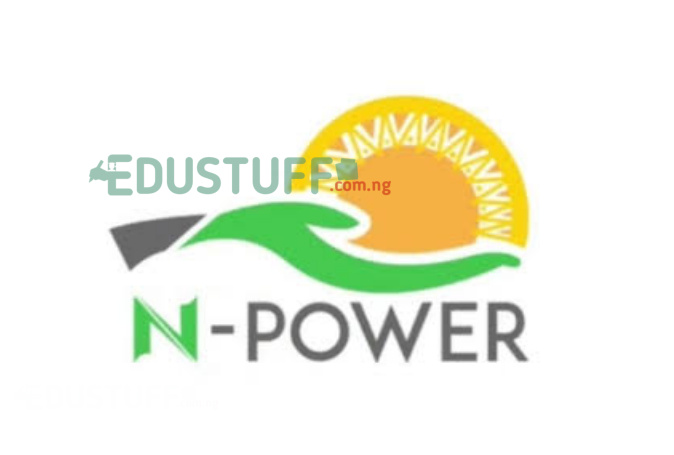 A message was rolled out to Npower Batch C Applicants for those that passed the NASIMS test via nasims gov ng
An email was also sent to the Batch C Applicants:
Dear N-POWER Applicant,
Congratulations on progressing to the next Stage of the selection process for the NPOWER Batch C Stream 2 Program.
Please visit the NASIMS portal @ www.nasims.gov.ng to enroll your biometrics information by following the steps as captured in the image below.
Please note that shortlisting does not guarantee a final place on the program.
What is Npower Biometrics Verification?
The Npower biometrics verification is for those that passed the Npower tests screening phase, if you meet the cut off mark and you're yet to see the biometrics verification notification on your dashboard, kindly check back later.
The biometrics verification is set up to verify some of your details, and if you've any other correction to make on your application form you're to send an email to [email protected].
How To Do Npower Biometric Verification For Batch C Applicants 2022 nasims gov ng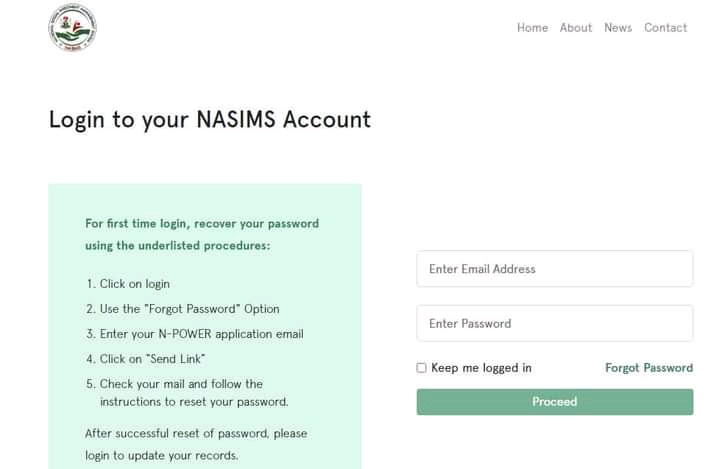 Npower Batch C Applicants should follow the procedure below to carry out the biometrics/fingerprint verification:
Log on to Npower NASIMS Portal via https://nasims.gov.ng/login
Provide the requested details in Required column (Your email address and application ID)
Click on verification on the menu: If you passed the Npower screening phase you'll see the following message:

Npower Biometric Verification/Fingerprint
Congrats on passing the screening phase. We just want to verify some of your details and you will be good to go. If you feel you missed out on any important detail during the application phase, kindly send an email to our support team via [email protected].
4. After seeing that, Proceed by clicking on the Capture Your Fingerprint button
5. Navigate to the new page "NASIMS (NPOWER) Biometric Client". You will see the information below on the new page (https://nasimsbiometric.blob.core.windows.net/enrollment/Publish.htm)
6. Click on "Install" to install the NASIMS NPower Biometrics Prerequisite application on your computer.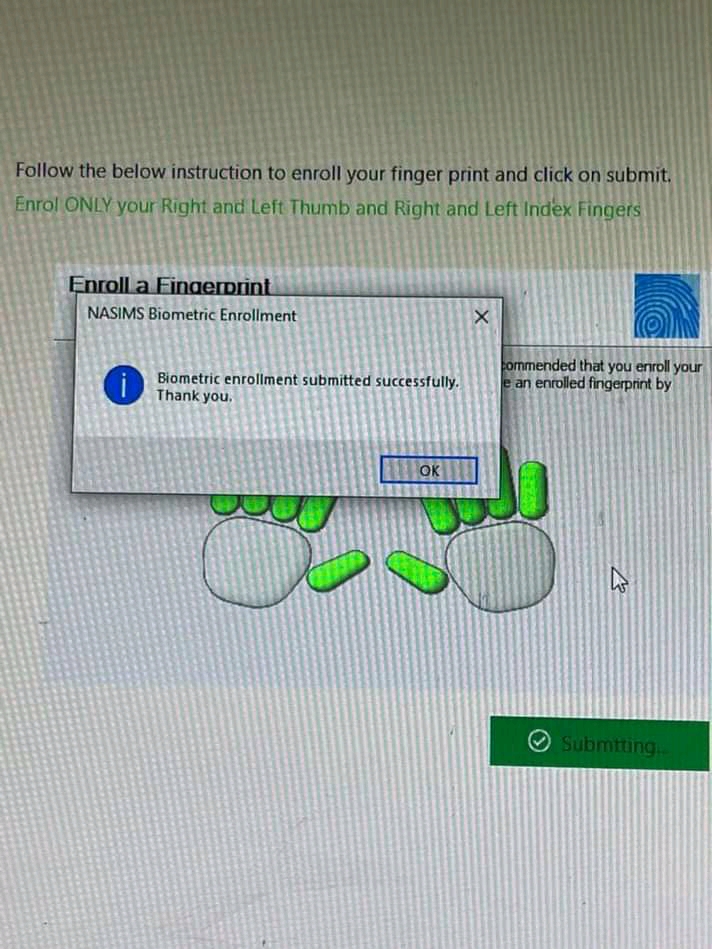 7. After the installation, click on "Launch" to start the application. Then follow the onscreen prompts (instructions) to capture your fingerprint.
8. Make sure the fingerprint biometric device is connected, then click on "Begin Enrollment" to launch the enrolment process.
9. Click on the finger to begin the enrolment process
10. Applicants are to enroll their Right thumb, Right index, Left thumb and Left index fingers only for successful enrolment
11. After successful enrollment, click on "Submit" to save the biometric enroliment
After successful enrolment, please check the "verification" tab of your self service Portal to confirm if the Capture was successful.
NB: You can only use a computer or laptop for the Npower biometrics verification process.
Also find: npower biometric software download, npower biometric app, npower shortlisted names 2022, npower Biometric enrollment, npower biometric portal, npower biometric client
Good luck!
Looking for international scholarships, want to know exactly what you need to do to finally be a success with scholarships and apply for available opportunities? Click HERE to start now with ScholarshipReg.


Don't hesitate to like, share this article using any of the Social media share buttons and drop a comment in the section below.