What You'll Learn in this Post
NAF DSSC Recruitment Portal 2022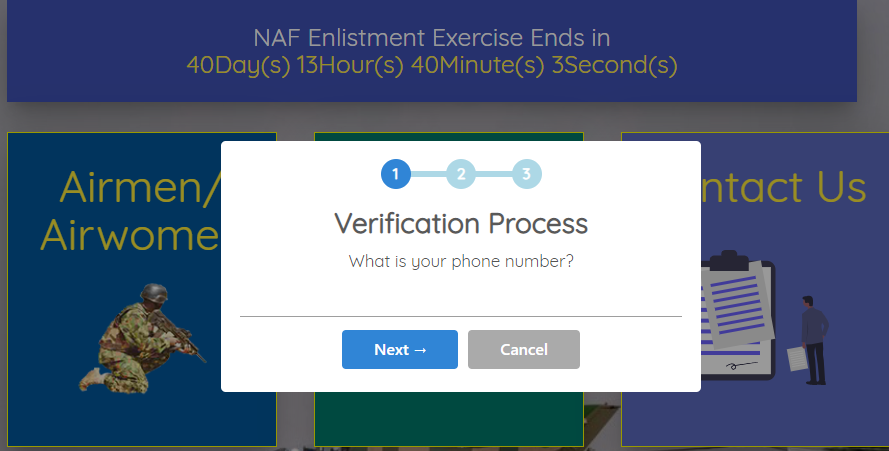 nafrecruitment.airforce.mil.ng NAF DSSC Recruitment Portal 2022: This page will show you how to access the Nigerian Air force Direct Short Service (DSSC) 2022 portal to apply for the ongoing recruitment.
The Nigerian Air force NAF DSSC recruitment portal nafrecruitment.airforce.mil.ng open on 19 December, 2022 and will close on 30 January, 2022.
NAF DSSC Recruitment Portal 2022
To apply for the NAF DSSC Recruitment, click on the link above and follow the application procedure.
Nationality:Applicants must be Nigerian citizens by birth, and possess national identity card/NIN or BVN.
Age:Applicants must be between the ages of 20 and 30 years by 14 October 2023 (25 – 40 years for Medical Consultants).  Please note the following: 
Candidates born before 13 October 1993 are not eligible, while candidates born before 13 October 1983 are not eligible for medical consultants.
The Exercise is not for serving personnel desiring Branch Commission. Therefore, personnel above 30 years of age (born       before 13 October 1993) are not to apply. 
Marital Status:All applicants must be single.
Height:Minimum height is 1.66 metresfor males and 1.63 metresfor females.
Medical Fitness:Applicants must be medically fit and meet the Nigerian Air Force medical and employment standards.
Local Government Area Attestation Form:Applicants' Local Government Area Attestation Form must be signed by a military officer from the same State as the applicants not below the rank of Wing Commander in the Nigerian Air Force or equivalent in the Nigerian Army and Nigerian Navy or a Police Officer of the rank of Assistant Commissioner and above, or Local Government Area Chairmen/Secretaries and Magistrates from the Local Government Area of the applicants, Registrar, DVC, Provost of applicant Institute. The Local Government Area Attestation Form must be accompanied by the passport photograph and photocopy of the signees' Drivers Licence or National ID Card or International Passport. The signee is also to authenticate behind the applicants' passport photograph.
Letter of Attestation of Good Character. A separate Letter of Attestation of Good Character is required of every candidates. The letter could be attest and authenticated by the same signee in Paragraph 6 above or any eligible personality from different state but of equal status of the aforementioned. Candidates are to print out the Letter of Attestation of Good Character form and forward same for the signee to fill and signed accordingly with his/her official stamp and other means of identification documents such as Drivers' License, International Passport, National Identity Card and Voters Card.
Thanks for reading, good luck.