The Life Changer JAMB Novel: This page contains the likely or possible The Life Changer Questions and Answers Chapter 8 (Eight), the Novel is the approved recommended text for JAMB 2023.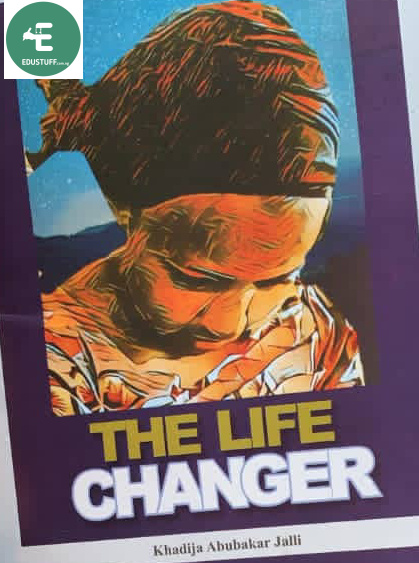 The Life Changer Questions and Answers Chapter 8 (Eight): JAMB Novel 2023
1. What is Mohammed Kabir's occupation? Mohammed Kabir worked as a Laboratory Technologist in the university.
2. Who began calling Kabir "Doctor"? Kabir got the nickname of doctor from his HOD. even if he wasn't qualified.
3. What bad habit was Kabir addicted to? Kabir was addicted to gambling. He often gambles playing cards.
4. Who is Zaki to Honorable Habib? Zaki is a hoodlum who commits crimes and does dirty deals for Habib.
5. What was Zaki's other occupation? Zaki was into the business of spare part sales and importation.
6. Which illegal deal did Zaki and Habib carryout in the past? Habib was the mastermind of the kidnapping of a business man's son. He paid Zaki who later involved Talle in the deal but unfortunately their plan failed and Zaki and Talle were arrested.
7. How much bribe did Habib pay to bail Zaki and Talle from police custody? Habib paid the sum of two hundred and fifty thousand naira to release Zaki and Talle from police custody.
8. Why didn't Talle return to his village after his release? The police blackmailed Talle never to return to his village or contact anyone he knew from there or else his case on kidnapping will be reopened.
9. Who did Habib and Labaran contact to deal with Kabir for duping Salma? Habib and Labaran contacted Zaki to track down Kabir and get back Salma's money.
10. Where did Zaki find Kabir? Zaki trialed Kabir to a Gambling Joint.
11. How much money did Kabir win while gambling? Kabir won three hundred thousand naira.
12. What is often referred to as KARTAGI? The leader of the gambling group is called KARTAGI This person is known to be very mean and tough.
13. Why did the Kartagi send his thug to attack Kabir? The leader of the gambling group aka Kartagi was upset because Kabir won a lot of money and refused to gamble anymore. So he sent his thug to attack Kabir.
14. What was the name of the thug sent to attack Kabir? The name of the thug which the Kartagi sent to attack Kabir was GUMUZU.
15. What did Zaki do when he met GUMUZU and Kabir? Zaki beat up both of them and took all Kabir's money.
16. How much money did Zaki steal from Kabir? Zaki stole three hundred thousand naira from Kabir. He then took the money to Labaran.
17. How much did Labaran give Zaki?
Labaran gave Zaki fifty thousand naira.
18. Why didn't Labaran return the money to Habib? Labaran didn't give Habib th money for various reasons but most importantly it was because he knew Habib most have sl'pt with his lover Salma just to give her that money.
1g. What made Salma decide to change and become responsible? When Salr lost her father. she decided to change and become more decent.
20. Who is Salim? Salim is Salma's fiance.
Thanks for reading.