JAMB Reprint 2023 UTME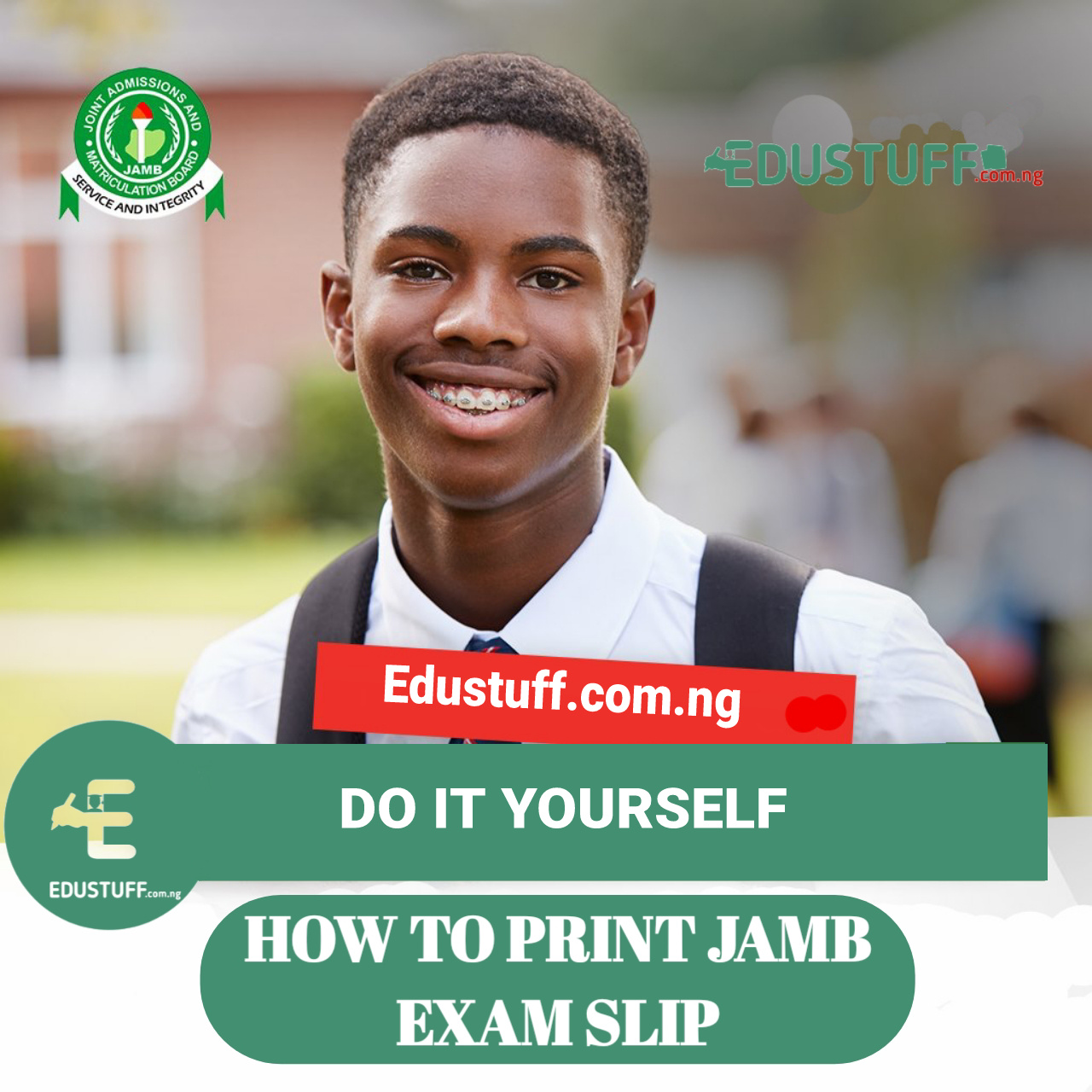 JAMB Reprint 2023: See How To Reprint JAMB Examination Slip, you'll learn steps on how to Reprint JAMB Exam Slip for 2023 UTME Date, Time and venue via JAMB portal slip checker JAMB e-Facility through www.jamb.org.ng, kindly read this article to reprint JAMB exam slip, https://slipsprinting.jamb.gov.ng/PrintExaminationSlip
How To Check JAMB Exam Date, Center, and Time 2023
To check your JAMB Exam Date, Center and Time, you'll need to visit the JAMB slip checking portal and reprint your UTME slip access your examination schedule.
All candidates must print their examination notification slip in order to know the location, date, session, and time of their examination.
All applicants are encouraged to print their JAMB slips ahead of time so that they are aware of the location of their examination centers, the date of their scheduled sessions, and the time of the examination, especially given the changes in examination schedules this year.
What Is JAMB Exam Slip?
The Joint Admissions and Matriculation Board (JAMB) exam slip contains UTME candidates exam date, time, and venue for the examination, the reprinting of JAMB examination slip will start few days before the UTME kicks off, kindly read this article to know your JAMB exam date, time and venue.
This page helps with:
JAMB slip reprint 2023, jamb exam slip, jamb utme slip,jamb utme exam slip printing, JAMB 2023 UTME Slip Printing, is jamb reprint 2023 out, jamb slip reprint 2023 date, jamb slip reprint 2023, jamb Reprint 2023, jamb reprint portal.
JAMB Examination Date for 2023
The Joint Admissions and Matriculation Board (JAMB) has announced Saturday, 25th April 2023 as the commencement date for the UTME.
JAMB UTME Exam Slip Printing 2023
You'll need to know the exact date, time, and center to sit for your JAMB UTME, so read this article carefully to know how to print your examination slip, time to start printing, cost and more details.
JAMB Reprint 2023 Date
The JAMB exam slip reprinting date has not been officially announced by the Joint Admissions and Matriculations Board, it will be made public in due course but click HERE NOW  and continue reading for more information.
Candidates' crucial information was included on the slip, including their registration number, examination center within their chosen examination town, and planned arrival time. In line with its "No biometric verification, no examination" policy, JAMB underlined that all applicants will be checked into the examination hall using the Biometric Verification Machine, which also served as a register of attendance.
When Is JAMB Reprinting Starting for 2023?
The JAMB slip reprinting will start a week (7 days) or few days before the commencement of the 2023 UTME. The Joint Admissions and Matriculation Board (JAMB) has announced that the reprinting of examination slips for the 2023 UTME would begin on April 22, 2023.
How to Reprint JAMB Exam Slip for 2023
To Reprint your JAMB examination slip via the JAMB website, you'll need your JAMB Registration Number or Email address, or Phone number, follow the process on Edustuff below: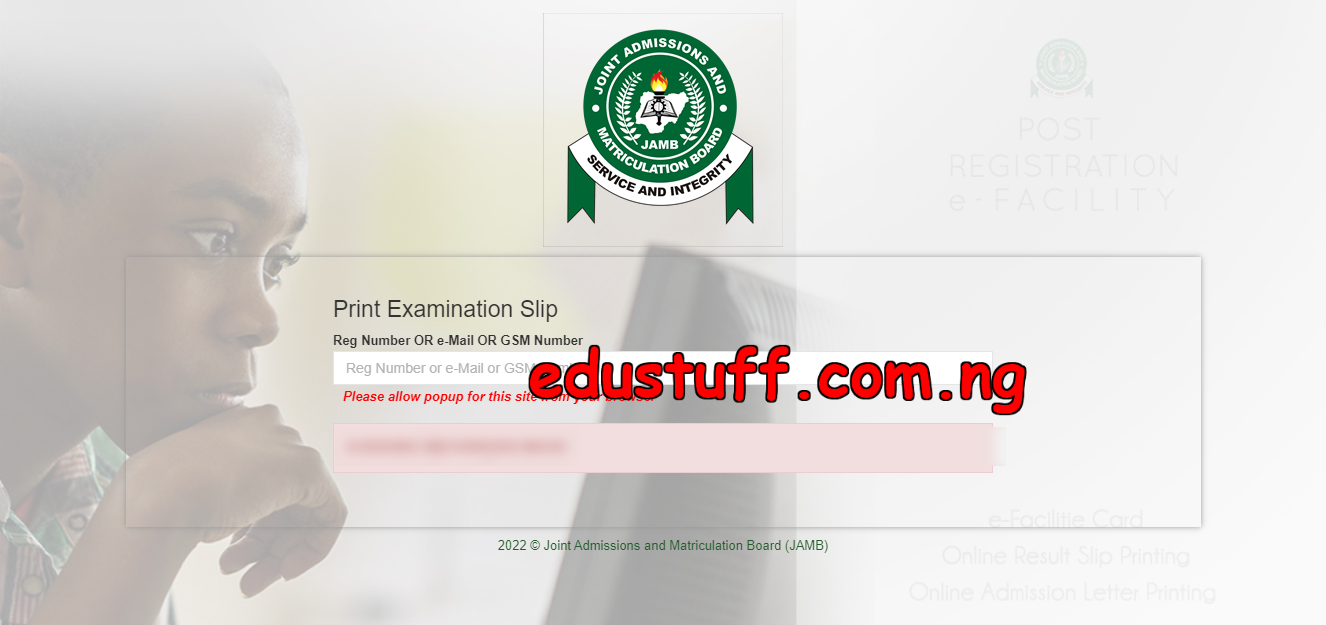 STEP 1: Visit the JAMB UTME e-slip printing page via https://slipsprinting.jamb.gov.ng/PrintExaminationSlip  
STEP 2: Provide your JAMB Registration Number or Email address or Phone number in the Required column.
STEP 3: Finally, click on the 'Print Examination Slip' button and proceed to check and print out your JAMB exam date, time, and venue.
NB: Please allow a popup for the JAMB site (www.jamb.org.ng) from your browser.
The Joint Admission and Matriculation Board (JAMB) has activated the 2023/2024 Examination slip, Candidates who applied for the Examination exercise can now Proceed to check their Examination time and venue.
Note: You must print two (2) full-color copies of the UTME Examination Slip. One will be submitted in the examination hall, and the other must be kept for reference.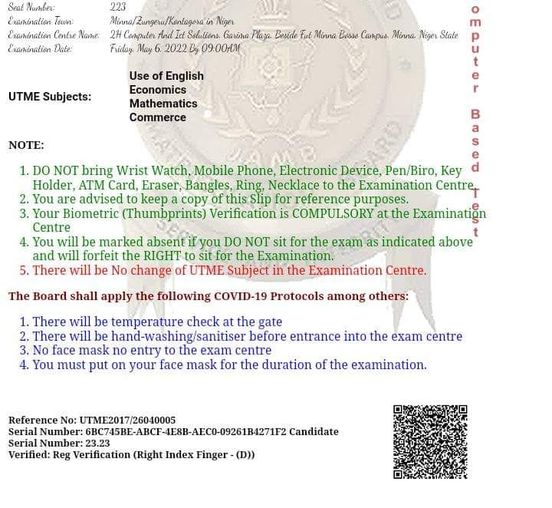 Edustuff will advise you to print a copy of the JAMB registration slip, JAMB reprint exam schedule, and a Biro to the Examination Centre and Submit the copy of the Slip to the Invigilator.
Good luck, that's how to reprint JAMB exam slip 2023, for UTME date, time and venue.
If any of the links failed you can check: JAMB Reprint Portal 2023 portal.jamb.gov.ng/examslipprinting Now Activated
NOTE: The JAMB slip reprinting for the 2023 Unified Tertiary Matriculation Examination (UTME) is yet to commence, kindly save, bookmark or keep checking this page for update. This page will be updated immediately the slip checking portal is actiavated.
Candidates should also be aware that no examination will be rescheduled for any reason, so they should plan ahead and stay close to their examination locations; if possible, they should pay a visit to their centers prior to the examination date.
Biometric Verification will be the only mode for the admittance of candidates into the examination centre. Strict adherence to the guide on compulsory biometric verification of every candidate is required.
JAMB reprint 2023
jamb reprint slip 2023
jamb exam slip 2023
jamb 2023 reprint 
jamb examination slip reprint 2023
jamb slip 2023
Thanks for reading, good luck.