The Life Changer JAMB Novel: This page contains the likely or possible The Life Changer Questions and Answers Chapter 5 (Five), the Novel is the approved recommended text for JAMB 2023.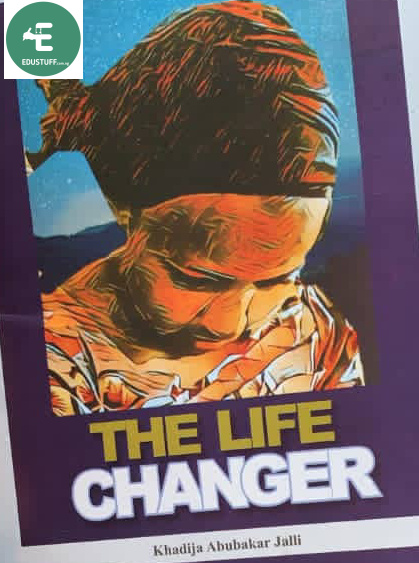 The Life Changer Questions and Answers Chapter 5 (Five): JAMB Novel 2023
1. Who is Labaran? Labaran is Habib's driver. he is also his close friend.
2. What was Labaran's previous occupation? Labaran was a local government driver.
3. Who is Habib? Habib is a wealthy politician. He is a member of the State House of Assembly.
4. Who set Tomiwa up on a blind date? Tomiwa's roommate. Salma set her up on a blind date.
5. What did Salma do when Habib asked for her number? Salma gave Habib Tomiwa's phone number instead of her number.
6. Who called Tomiwa's phone's to invite her to hangout with him? Habib called Tomiwa's number and invited her on a date thinking she was Salma.
7. What time did Habib call Tomiwa's phone that evening? Habib called Tomiwa's phone by 8pm that evening.
8. Why was Tomiwa scared to go out with Habib? Tomiwa's was afraid that Habib would find out that she wasn't the girl he met previously and also she feared that Labaran and Habib might be dangerous people.
9. Why was Tomiwa afraid when she got into the Habib's car?
Tomiwa wasn't comfortable with the sitting arrangements because she felt it would be easy for Habib and Labaran to harm her in that position. so she sat at the back seat.
10. Where did Habib take Towima to on their first date? Habib took Tomiwa to a restaurant called Frizzlers.
11. Why was Tomiwa angry at Habib? Tomiwa got upset when Habib found out she was a different person. She then admitted she wasn't the lady he picked up the other day and explained why Salma gave him a wrong number.
12. How much did Habib give Tomiwa? Habib gave Tomiwa fifty thousand naira. He told her to take twenty thousand and give her friends ten thousand naira each.
13. Why did Ngozie lock the room door as soon as Tomiwa entered the room? Ngozie locked the door because she didn't want strangers to come and share their money and gifts items with them.
14. What caused the argument between Salma and her roommates? Salma became jealous because she had missed the opportunity to date a wealthy man like Habib. She then began to accuse Tomiwa of snatching Habib from her.
15. Why did the ladies suddenly stop arguing? Salma and her roommates suddenly stopped arguing when a knock was heard at the door. The ladies who didn't want anyone to share their food with them. turned off the lights and ignored the knock on the door.
16. Why were Salma and her roommates admired by every girl in the school? Salma. Ada, Ngozie and Tomiwa were admired by other female students because they got good grades in schools and remained good friends and roommates all through.
Thanks for reading, success.