JAMB UTME Result 2021 Checker www.jamb.org.ng result 2021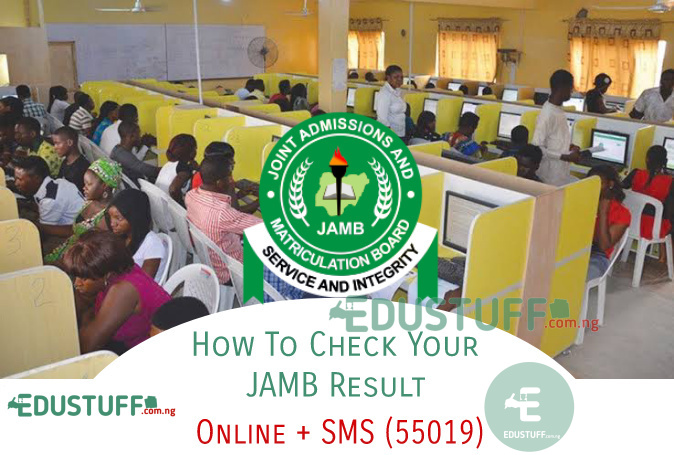 JAMB Result 2021: See how to check your JAMB score for 2021 UTME with the JAMB results checker or portal, check your JAMB 2021 result now, https://portal.jamb.gov.ng/eFacility_/CheckUTMEResults.
This is to notify the 2021 UTME candidates on how to check their JAMB 2021 result that was written between June 19, 2021 to July 3, 2021.
Is JAMB result 2021 out?
Yes, the JAMB 2021 result is out.
When will JAMB Release Results for 2021?
JAMB will release the result of 2021 UTME June 23, 2021.
How Do I Check My JAMB Result 2021?
There are different ways you can use to check your JAMB result, Edustuff will show you how to check your JAMB UTME result with only registration number, you can also check your JAMB score offline via SMS without your registration number.
How To Check JAMB Result 2021
Kindly visit the JAMB result checking portal via https://portal.jamb.gov.ng/eFacility_/CheckUTMEResults.
Input your JAMB Registration Number/ Registered number in the required column.
Finally, click on 'Check My Results', your JAMB score will display afterwards.
How To Check JAMB 2021 Result Using 55019 SMS
Make sure you have a credit balance of at least N50 on your line
Go to SMS and send UTMERESULT to 55019 using the number you used for registration.
After N50 charges deduction, your JAMB result will be send to you.
How to Print JAMB Results 2021
To print your UTME result, kindly visit any cyber cafe close to you if you don't have a printer.
How to Print JAMB Original Result
Kindly log-on to your JAMB e-facility account, click on "Print Result Slip" on the left sidebar
Your transaction ID and details will be displayed
And you will be charged N1000 for this
Scroll down and tap on "Continue to Payment"
Proceed by tapping on "Pay Now"
Choose how to make payment: MasterCard, Internet banking, etc
Enter your CARD details and click on Submit
Once payment is done, you will be asked to provide the following:

a. Year of Exam
b. JAMB Registration Number.

Finally, you can proceed to print your result slip.
Latest News on 2021 JAMB Result
JAMB release over 14,420 more results.
How can I check my JAMB result without password?
To do that, you should use the SMS method to check your JAMB result, you won't need your JAMB Registration Number or password since it is offline.
I can't see my JAMB Result / My result is not showing
If you can't see your result for JAMB don't panic, JAMB do release the results in batches not all at ones, wait for few hours or 48 hours and check later, you should see your result then if it has not been withheld.
Recommended: JAMB Reprint 2021: Print JAMB Exam Slip for Exam Date, Time and venue Now | JAMB reprinting slip
My JAMB UTME Result is not showing fully
Before using your phone to check your JAMB score online, make sure you put your browser in "Desktop site," to see your result fully.
My Jamb Score Is Too Low
It depends how low your JAMB score is, you can still use it to process some instituion, but, if you don't meet the cut off mark, you need to sit for JAMB again for make A'level your plan B.
JAMB UTME Result Checker Portal
https://portal.jamb.gov.ng/eFacility_/CheckUTMEResults is the portal for checking your JAMB result.
This page answers:
JAMB UTME result printing, JAMB 2021 result checker portal login, 2021 result for JAMB, check my jamb result, Saturday JAMB result, Is Jamb result out for those who wrote on Monday?, Has Jamb released results for those who wrote on Tuesday?, When is Jamb going to release 2021results?, jamb 2021 result, portal for jamb result, http //www.jamb.org.ng/efacility/check utme result
Recommended: JAMB Mock Result 2021 is out | Check Your Mock Score Now Online
JAMB Exam Date for 2021
The JAMB 2021 UTME was conducted between June 19, 2021 to July 3rd, 2021.
Take Note Of these JAMB 55019 Result Checker SMS
If you use a phone number that was not used to register for JAMB, you'll get this reply: 'This phone number was not used for registration."
Absent candidates would get "CANDIDATE ABSENT" as feedback
A candidate with a result will receive the message: "Dear Mr/Miss Edustuff, your result is as follows… (and the details will be provided).
If a candidate result has been withheld, a "Result Withheld" message will be sent to the candidate.
If a candidate belongs to the category being given the benefit of the doubt, the message to the person will be: "Result withheld pending the upload of clarifications/document required from you."
A candidate that was ABSENT WITH REGISTRATION NUMBER also CANCELLED will be so informed.
"Invalid Entrance into the Exam Hall" will be sent to a candidate who gained unauthorized access to the examination hall.
Thanks for reading, congratulations!

Don't hesitate to like, share this article using any of the Social media share buttons and drop a comment in the section below.