The Life Changer JAMB Novel: This page contains the likely or possible The Life Changer Questions and Answers Chapter 4 (Four), the Novel is the approved recommended text for JAMB 2023.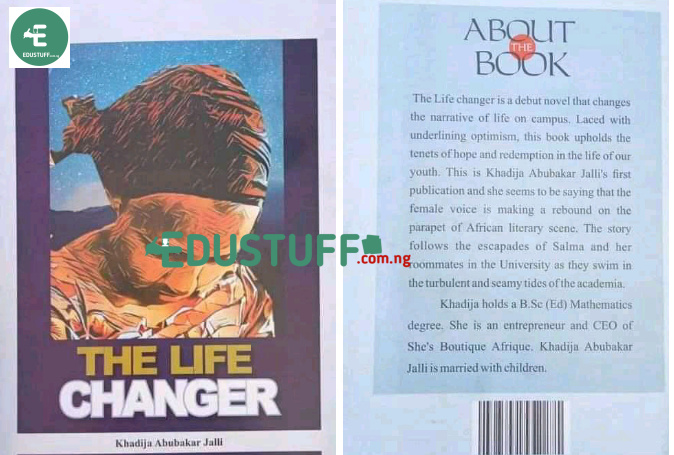 Recommended: The Life Changer JAMB Novel PDF Summary Questions/Answers Download 2023 UTME
The Life Changer Questions and Answers Chapter 4 (Four): JAMB Novel 2023
1. Who is Doctor Dabo? Or Dabo is a lecturer in Anmadu Bello University.
2. How many years has Dr. Dabo been a lecturer in the university? Doctor Dabo has been lecturing in the university for more than ten years.
3. Why did Saima visit Dr. Dabo's office? Salma visited Dr Dabo office to get her registration form signed because he was the Level Coordinator.
4. Describe Doctor Dabo's reputation on campus Dr Dabo was known to be a strict lecturer who takes punctuality very seriously. He also had a good record and reputation on campus.
5. How did Dr Dabo feel about Salma? Dr. Dabo was instantly attracted to Salma the moment he laid eyes on her.
6. What inappropriate questions did Dr. Dabo ask Salma that made her upset? Doctor Dabo said to Salma" | want to know you more intimately'.
7. How did Salma react to Dr. Dabo request? Salma denied his request by scolding him. she then walked out of his office angrily.
8. Why was Salma hostel very popular? Salma's hostel was famous for having the most beautiful girls on campus. The ladies often referred to themselves as "happening babes".
g. How many girls were permitted to stay in a hostel room? Each hostel had four girls per room.
10. What is the name of Salma hostel? Salma's hostel was called Queen Amina hall.
11. Why was Dr. Dabo afraid after Salma left his office? Dr. Dabo feared Salma wouldn't report him to the school authorities and that would tarnish his reputation which he had worked hard to build.
12. What are the names of Salma roommates? Salma had 3 roomates in her hostel, their names are Tomiwa, Ada and Ngozie.
13. Where is Ada from? Ada is from Benue state.
14. Where state is Tomiwa from? Tomiwa is from Ibadan, Oyo state.
15. Where is Ngozie from? Ngozie is from Umunze in Imo State.
16. What was the religion of Salma's roommates? Salma and Tomiwa were Muslims, while Ada and Ngozie were Christians.
17. Which of Salma's roommates wanted to be a singer? Tomiwa's ambition was to become a singer.
18, Which meal was described as all students favorite meal? Indomie Jollof, because it was quick and easy to prepare.
1g. What special delicacy did Tomiwa offer her friends? Tomiwa sometimes prepared snail for her roommates and they enjoyed having it
20. What special delicacy did Salma introduce to her roommates? Salma who was from the North. introduced a special meal called Danwake.
21. Who did Salma believe was the owner of the car? Salma believed Habib was the owner of the car because he didn't talk much during the trip.
22. What car were Labaran and Habib driving? The young men were driving a Mercedes Benz.
23. Who are Habib and Labaran? Habib and Labaran are the young men who offered to give Salma a ride in their car. They dropped her off in her hostel.
Thanks for reading The Life Changer Questions and Answers Chapter 4.