TESCOM Shortlist: Oyo TESCOM shortlist 2020 is out, see how to check Oyo State Post Primary Schools Teaching Service Commission (TESCOM) shortlisted candidates names for 2020, PDF List.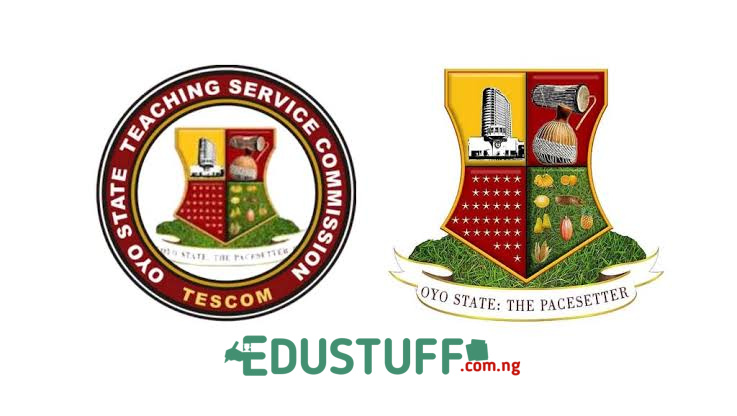 Oyo TESCOM shortlist 2020 Is Out
The Oyo State Post Primary Schools Teaching Service Commission, TESCOM shortlist is out for 2020, you'll see how to check the shortlisted candidates names in this article.
Is Oyo State TESCOM Shortlisted List Out?
Oyo state TESCOM shortlisted candidates names is out and 5,000 teachers out of 6,339 that was called for oral interview are shortlisted.
Candidates will be able to check their names at the last hour of Thursday, November 5, 2020 to confirm if they're successfully shortlisted. This was made known by Pastor Alamu on Thursday.
OYO TESCOM Latest News
OYO TESCOM Final LIST OF Teaching SHORTLISTED CANDIDATES IS OUT, CLICK First LINK BELOW TO CHECK.
According to Oyo state government, the TESCOM second list will be out soon and it will contain 1,000 shortlisted TESCOM candidates that applied.
This page answers: Oyo tescom shortlisted candidates 2020, tescom shortlisted name, tescom shortlisted candidates 2020, tescom shortlist, tescom list, tescom result
Oyo Statey TESCOM Shortlist Recruitment Statistics
According to a report, Edustuff finds out that 91 percent out of the 5,000 successful candidates are indigenes and nine per cent are non-indigenes.
150 candidates out of the 300 physically challenged applicants are to be employed for teaching and 50 candidates will be non-teaching staff.
For those who applied for non-teaching positions, out of 26,000 applicants 7,000 have been shortlisted for oral interview next week.
How To Check Oyo TESCOM Shortlisted Candidates 2020
To check of your name if you're successfully shortlisted for TESCOM 2020 visit TESCOM portal https://tescom.jobportal.oyostate.gov.ng/employed-list/ and search for your name.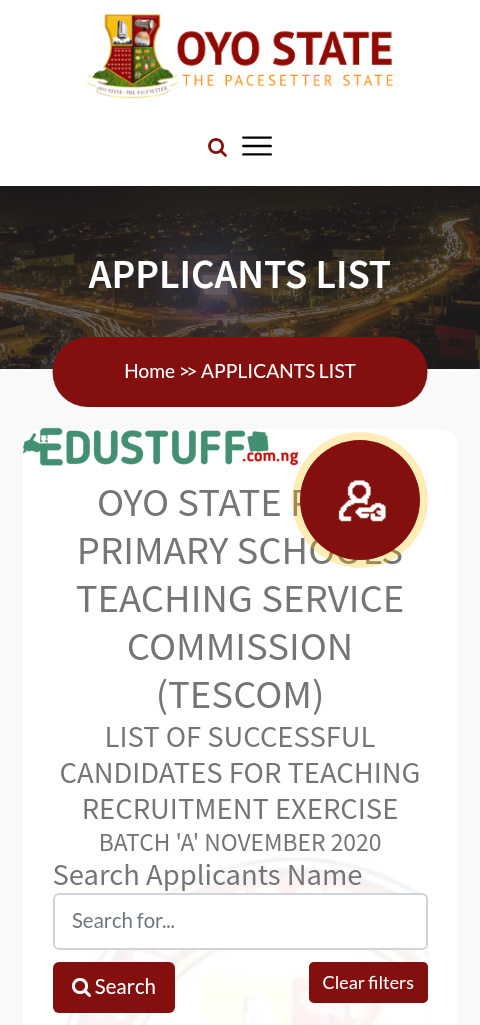 Oyo TESCOM Shortlisted Candidates Batch 'B' December 2020
The Shortlisted candidates for Teaching Batch 'B' is out, click the link below to check:
OYO TESCOM SHORTLIST OF NON-TEACHING CANDIDATES
Click link below to check list of Non-Teaching candidates.
TESCOM SHORTLISTED CANDIDATES 2020 LIST PORTAL
https://tescom.jobportal.oyostate.gov.ng/employed-list
TESCOM Recruitment Portal
https://tescom.jobportal.oyostate.gov.ng/
To join Oyo TESCOM shortlisted candidates group, CLICK HERE.
Congratulations to the TESCOM successfully shortlisted candidates for 2020, you can use the comment section to ask questions, or make complaint if you've problem in checking your employment status. Congrats once again.
Looking for international scholarships, want to know exactly what you need to do to finally be a success with scholarships and apply for available opportunities? Click HERE to start now with ScholarshipReg.


Don't hesitate to like, share this article using any of the Social media share buttons and drop a comment in the section below.