What You'll Learn in this Post
NHEF Scholarship Essay Competition 2021 Application Form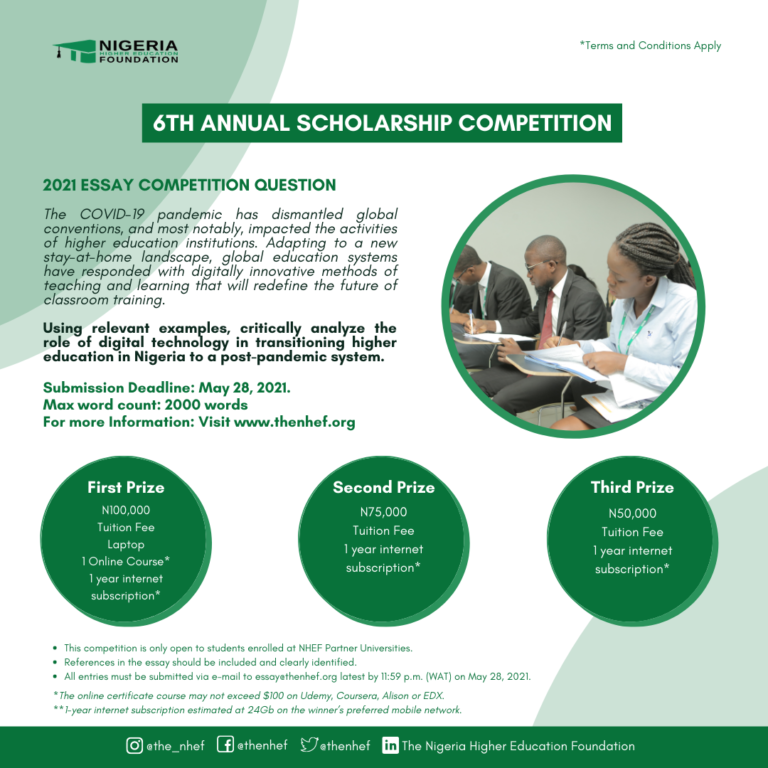 Apply for NHEF Scholarship Essay Competition 2021 6th Edition, see how to apply for NHEF Scholarship, Deadline/Closing date for submission, Requirements and more.
The Nigeria Higher Education Foundation (NHEF) is pleased to announce its 6th Annual Scholarship Essay Competition.
This year's competition aims to provide a platform that encourages Nigerian university students to think critically and strategically on topical issues that are of vital importance to Nigeria's sustainable growth and development.
In light of the COVID-19 Pandemic, the focus of this edition of the competition is "The Role of Digital Technology in the Nigerian Higher Education System."
Question for 2021 NHEF Scholarship Essay Competition:
The COVID-19 pandemic has dismantled global conventions and most notably impacted the activities of higher education institutions. Adapting to a new stay-at-home landscape, global education systems have responded with digitally innovative methods of teaching and learning that will redefine the future of classroom training.
Using relevant examples, critically analyze the role of digital technology in transitioning higher education in Nigeria to a post-pandemic system.
CONTEST PRIZES
Grand Prize winner of the 2021 Essay Competition will be awarded a ₦100,000, Laptop with a year of paid tuition.
The First Runner-up will be awarded a cash prize of ₦75,000 plus tuition fee.
The Second Runner-up will be awarded ₦50,000 plus tuition fee.
The online certificate course may not exceed $100 on Udemy, Coursera, Alison or EDX.
1-year internet subscription estimated at 24Gb on the winner's preferred mobile network.
Eligibility Requirements for NHEF Scholarship Essay Competition
All students at any NHEF Partner University are qualified to participate in the essay contest.
NHEF Partner Universities include Ahmadu Bello University, Bayero University (Kano), University of Ibadan, University of Lagos, University of Nigeria (Nsukka), and University of Port Harcourt.
Previous NHEF Essay Competition & Scholars Program beneficiaries are not eligible to participate in this competition.
Students enrolled in their penultimate year are third-year undergraduates of a 4-year degree program or fourth-year undergraduates of a 5-year degree program. NHEF will verify enrolment of each contestant with the University Registrar.
ESSAY CRITERIA
Essays must abide by the following guidelines prior to submission:
Entries should reflect author's ability to explore and discuss ideas / ethical concepts and demonstrate the conduct of research with a sufficiently detailed summary.
Only one entry may be submitted per student.
The essay must include a title page, a bibliography, and a scanned copy of the contestant's current Student ID.
The student's name, university, and registration ID# must appear in the header of each page.
The essay must not exceed 2000 words. It must be double-spaced, 12pt Times New Roman font, and contain numbered pages with one-inch margins excluding the bibliography and title page.
References in the essay should be included and clearly identified.
Recommended: EduGrant Scholarship of Excellence 2021 Application Form
How To Apply for NHEF Scholarship Essay Competition 2021
To Apply for the annual scholarship competition of NHEF, follow the procedure below:
Naming convention is as follows: 2021 NHEF Essay Competition Name of Applicant e.g., 2021 NHEF Essay Competition Adekunle Ciroma Ahmed. Entries must be submitted in PDF format.
All entries must be submitted via e-mail to

[email protected]

by 11:59 p.m. (WAT) on May 28, 2021.
You can click Here for more details.
DISCLAIMER:
Submitted essays will become the property of the NHEF.
The NHEF may reprint the essays in its mediums and publications.
Appropriate citations will be given to all authors.
Good luck!