See how to use the Lagos State Job Registration Centers and Portal (JOB Bank) to find Job in the state 2021.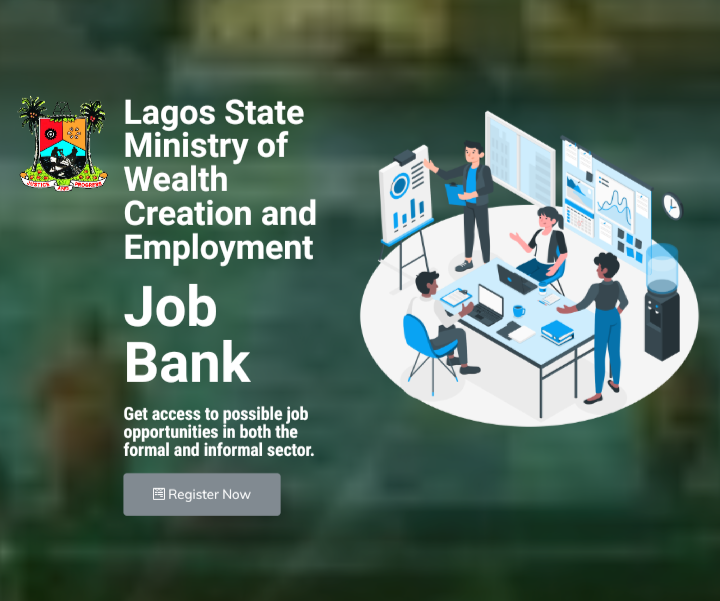 What is Lagos State Job Bank?
It is created by the Lagos State Government Ministry Of Wealth Creation and Employment in Lagos State for Unemployed Individuals or Job Seekers.
Are you an unemployed, underemployed or a Job Seeker?
The Governor of Lagos State is eager to put a smile on your face. Visit to register your details at the job center nearest to you or online to benefit from our services:
 EMPLOYMENT OPPORTUNITIES,
 CAREER TALKS & COUNSELLING
 EMPLOYABILITY SKILLS TRAINING
Lagos State Job Registration Centers
1. Epe: Epe Local Government Secretariat, Ile Marun – 09074581607, 08162130306
2. Etiosa: Elise Local Government Secretariat, Igbo Efon – 09071929947, 08169841282
3. lkorodu: lkorodu Local Government Secretariat, Opposite General Hospital, lkorodu – 090733041651, 08164490083
4. Ojo: Ojo Local Government Secretariat, Olojo Drive Ojo – 09074750453, 08062470771
5. Oshodi-lsolo: Oshodi-lsolo Local Governrnent Secretariat, Oyelayo Street. Bolade Oshodi, Lagos – 09028108180, 08138457362.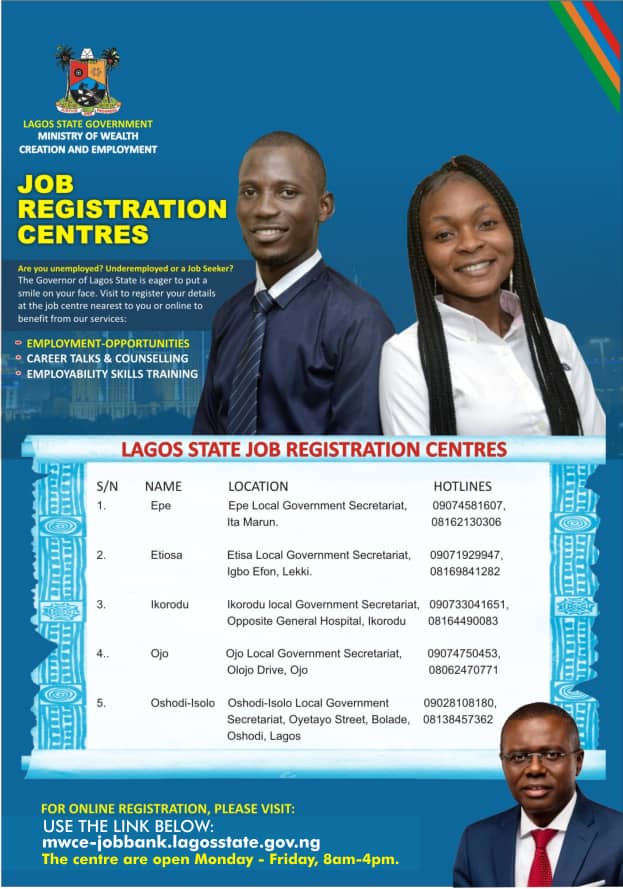 Recommended: Chevron Nigeria Graduate Internship 2021 Programs Application
Lagos State Job Registration Portal
FOR ONLINE REGISTRATION, PLEASE VISIT: USE THE LINK BELOW: mwce-jobbank.lagosstate.gov.ng.
The centre are open Monday – Friday, 8am-4pm.
Good luck!