What You'll Learn in this Post
Donda Academy 2022
Are you searching for information about Donda Academy? This article will answer your questions, which includes how to apply for Donda Academy, tuition fees, location, founder, website, requirements and more.
Kanye founded the Donda Academy school in Ventura County with the stated goal of educating the youth of today.
Who can go to Donda Academy?
Anyone, no matter your financial status, you are invited to submit an application. For students who qualify, financial aid and scholarships are offered, according to the school's website.
Donda Academy is a tuition-based private institution that serves students in grades pre-K through 12. It is designed to serve as a primary school for pupils in all grades that would be offered in public schools.
At Donda Academy, each classroom will have a maximum of 12 students and a student-teacher ratio of 10:1.
Donda Academy Tuition fee
Donda Academy is a tuition-based and offers financial aid and scholarships.
Donda Academy Website 2022
The address for the donda academy website is donda.org of which applications are open until June 10, 2023.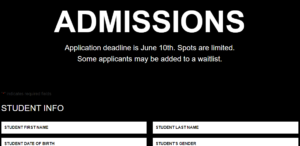 How to Apply for Donda Academy Registration online
Visit donda.org/admissions/ registration website
Fill in the website form with the required information
Select your school year
Fill in the parent info
Click "send" to complete registration.
NB: Spots are limited. Some applicants may be added to a waitlist.
The daily schedule for students consists of:
Full school worship
Core classes of language arts, math, and science
Lunch and recess
Enrichment courses including World Language, Visual Art, Film, Choir, and Parkour.
Thanks for reading.