UBEC Exam Results 2022 CBT Screening Test | Check Federal Teachers Scheme Result
Check UBEC Exam Results for 2022 CBT Screening test that was concluded on November 16, 2020 for the shortlisted Federal Teachers Scheme candidates.
Is UBEC Exam Result Out?
Yes, the UBEC CBT Screening test exam result is out.
When will UBEC exam Results come out?
Actually the result should be released within a week after the screening test, so the UBEC Federal Teachers Scheme CBT Screening test result will be out soon.
After UBEC Examination What's Next?
Releasing the results of the successful ones & the selection stage/pasting of their names in every State SUBEB offices.
UBEC Federal Teachers Scheme Schedule
Release of CBT Results to States
Selecting qualified candidates by SUBEBs
Submission of List of Selected Candidates with their credentials to SUBEBs
Release of List of Selected candidates
Issuance of provision of appointment Letter to UBEC
Registration, Deployment to Schools and
Commencement of Service
Verification of credentials with institution training of participants
How To Check UBEC Federal Teachers Scheme Exam Result
There is no provision for you to check online, kindly visit your state SUBEBs office to check your name and UBEC CBT screening result, some state may page the scores late but make sure you go there to check, or click to download the PDF result available below if your state is among, we're trying to get for all states.
Download UBEC Federal Teachers Scheme Exam Result For All States
If it is your state, click on it to download the EXAM result, some will lead you to UBEC Facebook group wh ere the list of such state is posted, just join the group.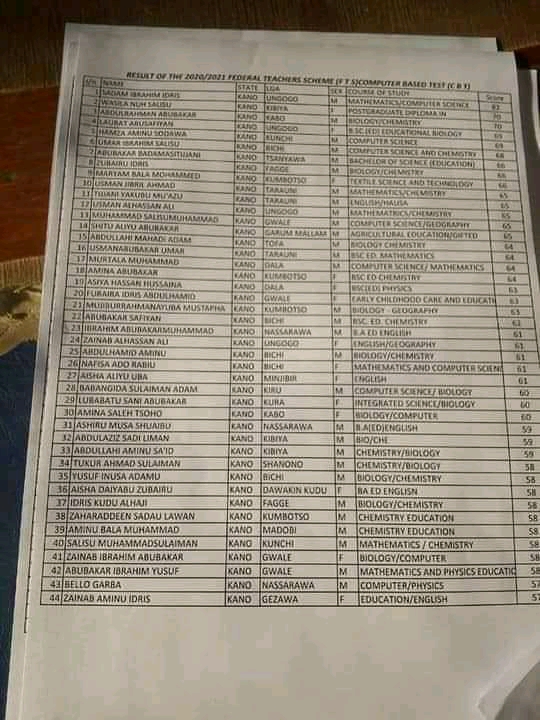 Visit FTS portal via https://fts.admissions.cloud/home and login
Use your FTS login details to login
Proceed to download or input your ubec username to check your result according to state.
NOTE: Save this page or download our app, we shall update you on how to check your Federal Teachers Scheme Result.
Edustuff congratulates all the Shortlisted and succes candidates, wish you all success.
Remember to drop any comment below and share this article using any of the provided Share buttons.
Congratulations.