Oyo State Schools Resumption Date 2021:
Check Oyo State Public and Private Primary and Secondary Schools First (1st), Second (2nd), Third (3rd) Term Resumption Date for 2021/2022 Academic Session.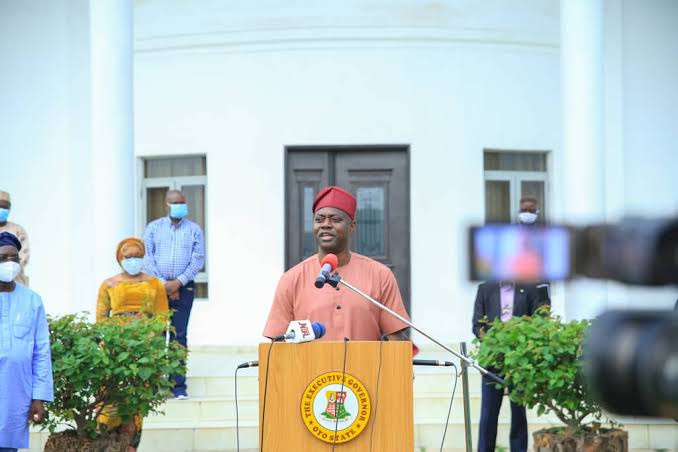 This is to inform you that the Oyo State Government has announced the resumption date for schools in the state for 1st term academic activities 2021/2022 of Public and Private Primary and Secondary Schools.
Oyo State Schools Resumption Date: Monday 20th September, 2021 as been announced as the official resumption date for schools in Oyo State.
Oyo State Schools 2021/2022 1st Term Academic Session will begin on September 20th, 2021.
All public and private schools, school leaders and school associations are implored to take note and adhere strictly to the this notice.
NOTE: Full Academic Program should commence on the first day of the term.
Oyo State Schools COVID-19 Prevention Protocols
Hand washing sports to guarantee regular washing of hands by students, teachers or anyone entering the school.
Sitting arrangement in classes must be mapped 2 metres away from each other to prevent body contact.
It is compulsory for all students and teachers to use face masks. Parents are also to use face masks anytime they are coming to drop or pick their children from school.
Assembly, social gatherings and sport activities are suspended for now.
Infrared thermometer to test body temperature at the entrance of the school. Anybody with high body temperature should not be allowed into the school.
No use of air conditioners in classrooms but well ventilated classes.0
Food vendors are not allowed in schools. Pupils/students are to bring their food, snacks etc. from home.
No going out of the classrooms except when going to the rest room (toilet) which must be under close monitoring by care giver or teacher.
No hand shakes, hugging, physical contact or collecting of things like books, pen, spoon, cup, food, water etc. from one another.
Birthday Celebrations/gifts in school is suspended.
If any child/teacher shows any syptoms of Covid 19/malaria; such should not be allowed to come to school, he or she must stay home to be treated or call Covid 19 NCDC agents.
Students/pupils and teachers must have a pocket (handy) sanitizer for their personal use anywhere they go apart from the general one provided by the school.
Decontamination of classes, object surfaces and school environment frequently is compulsory.
Only one entrance to the school premises will be accessible to everyone for proper monitoring.
EOC (Emergency Operations Centers) will be going round schools to determine compliance with the Covid 19 Prevention protocols put in place by schools.
These precautionary measures should not only be observed in the school, it should be observed at home and public places to keep our children and us safe from Covid 19:
Wash your hands with soap and water frequently.
Use hand sanitizer
Use face mask
Keep social distancing
Report any case of corona virus symptoms.
Please, our compliance is very important.
Thanks for reading.