Nigeria Police Recruitment 2021 Portal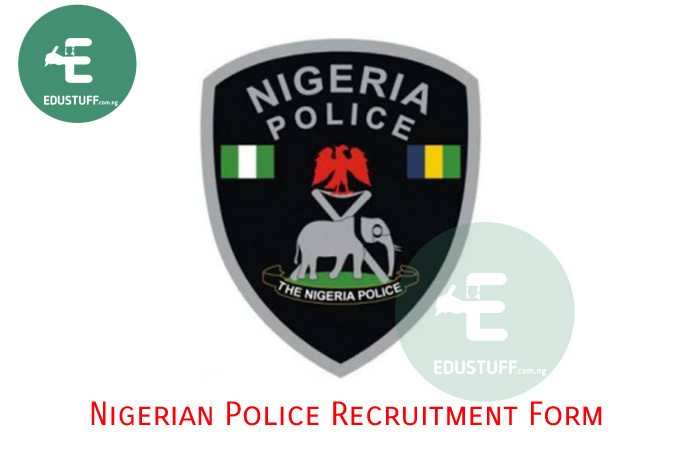 Nigeria Police Recruitment 2021: See how to apply for the 2021 Nigeria Police Force (NPF) Recruitment application form, check deadline for application, requirements, NPF application portal and more npf.gov.ng.
Is Nigeria Police Recruitment Form out for 2021?
Yes, interested applicants can now apply for the Nigeria Police (NPF) Recruitment 2021.
Applicants for the Nigeria Police (NPF) Recruitment must meet the below requirements:
NPF Recruitment Requirements 2021
Must be aged between 17 to 25 years
Must possess "a minimum of five credits, including English and Mathematics, in WASSCE/NECO/GCE/NABTEB".
Applicants must be medical, physical, and psychologically fit and must not be less than 1.67m tall for male and 1.64m tall for female.
Female applicants must not be pregnant at the time of the recruitment.
Every applicant should possess a valid identity card. It can be your driving license, voter's card, or international passport.
For candidates who apply for police constables. English and Mathematics are compulsory.
Advanced Level (A level), Ordinary National Diploma (OND), National Certificate in Education (NCE) or their equivalents (for Cadet Inspectors).
University degree or a Higher National Diploma (HND).
How to Apply for Nigeria Police Recruitment 2021
Access the Nigeria police recruitment portal via www.policerecruitment.gov.ng and fill out the online registration form to apply for NPF Recruitment 2021.
Documents for NPF Recruitment Application
Applicants must prepare the following documents beforehand:
a. National Identification Number (NIN)
b. Functional Email Address, and phone number before you start the application.
c. Make sure all your O'Level results are scanned for upload on the application portal.
NB: All Candidates who applied and attended the physical screening exercise are advised to check their recruitment status and print their Computer Based Test (CBT) examination slip, if qualified for the next stage of the exercise.
Nigeria Police Recruitment Form Closing Date 2021
The Nigeria Police (NPF) Recruitment form application period begins on Monday 29th November, 2021 – 10th January, 2022.
How many Candidates will be Recruited by

Nigeria Police Force for 2021
The Nigeria Police Force (NPF), in partnership with the Police Service Commission (PSC), will complete the ongoing recruitment exercise for 10,000 constables into the Nigeria Police Force in 2020.
Nigeria Police Force (NPF) Salary Structure
Before you join the Nigeria Police Force, it is very important to know, you must have a
passion for the job. Check out the salary below:
1. Constable – N46,000-N47000
2. Corporal – N52,000-N53,000
3. Sergeant – N62,000-N63,000,
4. Unconfirmed 1 bar-N78,000
5. Confirmed Inspector – 2 bars – N123,000
6. One star-ASPN132,000-N134,000
7. Confirmed ASP N139,000, DSP N142,000-N143,000.
Recommended: NPF Recruitment Exam Result 2020/2021 | Check Now
While noting that the recruitment process is completely free, the statement went on to say that candidates who successfully complete their online registration will be invited to the next stage of the process, which is physical screening, which will take place between the 10th and 24th of January 2022 at all State Commands, including the FCT.
Applicants are to note that the Nigeria Police Recruitment form is free of charge.
Only those candidates who have been shortlisted will be contacted by the Nigerian Police to come in for a screening, which will take place at various locations that will be mentioned on the Nigerian Police website. All shortlisted applicants will be required to undergo a screening test, with those who pass moving on to the next step of the recruiting process.
Nigeria Police Recruitment Exam Date 2021
The Nigeria Police (NPF) Recruitment examination will take place on 10th and 24th of January 2022, at various locations across the country. Candidates should check their email and phone numbers for notifications as well.
Thanks for reading.