Myeduproducts.com: Buy Scratch Cards, Past Questions and other Educational Materials
MyEduproducts.com is your one-stop online solution for all educational materials, all our materials are 100% verified.
On MyEduproducts, you can buy scratch cards, pins & tokens, textbooks, project topics, courses, e-books with exams & recruitment past questions and answers.
The site is very easy to use:
Visit product Page
Make purchase with your card (secure payment gateway) or via direct bank transfer.
Get your order immediately via your dashboard under > Downloads
Track orders
Live chat support
You can purchase materials on MyEduproducts as a member or guest, if you register as a member, you'll have your personal dashboard, receive and track your orders conveniently.
Click Here to register now on MyEduproducts: https://myeduproducts.com/my-account/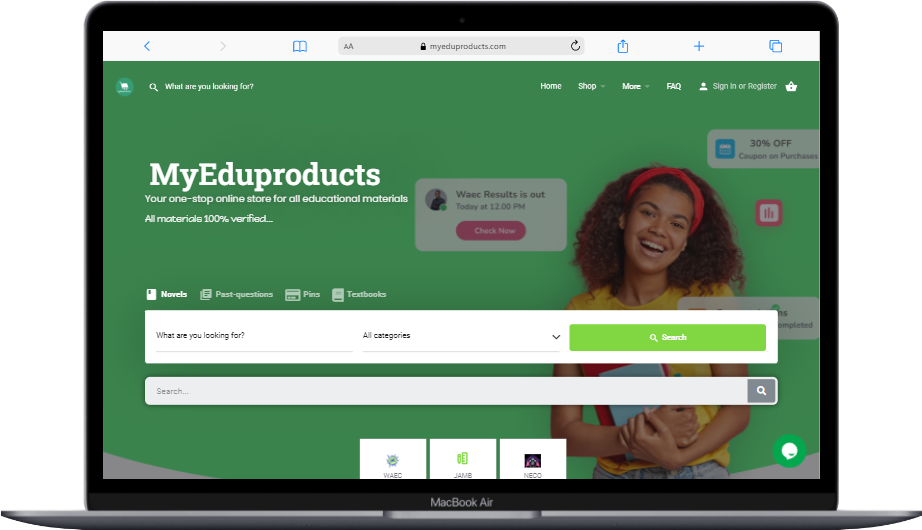 MyEduproducts Frequently Ask Questions
How do I use my ATM card to make a payment?
Step one:
Click the "BUY" button as seen on the product page to be redirected to our payment options page.
Step two:
Fill in your personal information (Your name, email, and phone).
Step three:
Choose "Pay with Card" and then "PLACE ORDER."
How long does it take to receive your past question?
Customers who pay with an ATM card receive their materials immediately as their payment is completed.
Customers who pay by transfer or at any bank branch will receive an email with the material once their payment has been confirmed by us, typically in 5 minutes.
MyEduproducts Vendor Program
Vendor program is one of
MyEduproducts
amazing features, if you register as a vendor you'll get the following:
Every sale earns you a 45% commission: As soon as you start submitting a past question, you'll start earning 45% of the original price as customers purchase it.
Agent Dashboard with Login – Dedicated Area for Agent
Agents Shop & Place Orders For Customers.
Agents Earn Commissions – Advanced Commission Structure
MyEduproducts is also an eCommerce site that markets your educational materials, lets you keep an eye on your commission as it grows, Etc.
MyEduproducts Vendor registration: To get started, visit https://myeduproducts.com/become-an-agent/ and create an account as an agent.
If you meet the prerequisites, your application will be reviewed and approved once you submit it. You will be assigned a dashboard.
Thanks for reading.