JAMB Result Issues and Solutions: If you're yet to see your JAMB result 2023 after sending UTMERESULT to 55019 or 66019 kindly read this article till the end, it contains JAMB result checking issues or errors you may receive and their solutions.
Most of the UTME candidates have been finding it hard to check their JAMB results since the Board announced the release of the JAMB 2023 UTME results, so we have to wrote this article to provide solutions to errors reported to Edustuff.
During JAMB registration for 2023, we can recall that the introduction of NIN in generating profile code caused issues of which Edustuff published an article on how it can be resolved.
How To Check JAMB Result 2023
To check your JAMB result:
Make sure you have at least #50 credit on your mobile number
Go to message and send "UTMERESULT" to 55019 or 66019 (It must be the number you used for the JAMB registration).
Your result will be sent to you.
You can also check via the JAMB result portal, click HERE for that.
Recommended: JAMB Result 2023 is out | Check Your JAMB Result Now
The main purpose of this Edustuff article is that after following the above step in checking your JAMB result, you may not receive your UTME score and we've to look at every possible error or issue and solve it.
I Can't See My JAMB Result | JAMB Result Issues and Solutions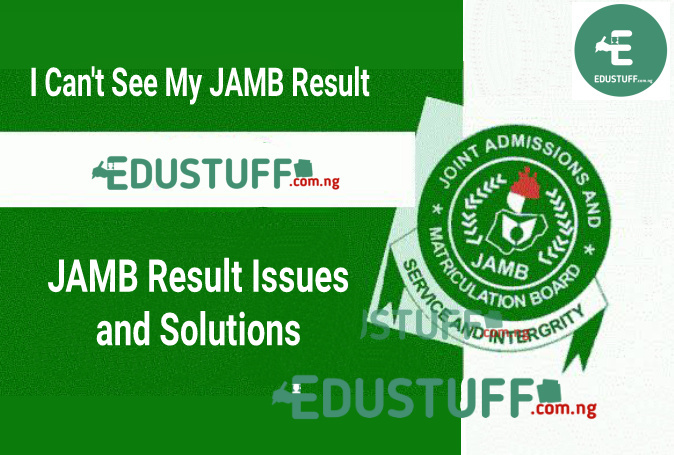 1. Wrong Parameters Error
Don't panic if you get the wrong parameters error after sending UTMERESULT to 55019 or 66019 to check your JAMB result all you need to do is to make sure the command you sent is correct.
Before sending the message, make sure you spelled UTMERESULT correctly and ensure there is no space between the UTME and RESULT, it should be "UTMERESULT."
2. 2023 UTME Result Is Not Available Now
If you got this reply after sending UTMERESULT to 55019 or 66019 you don't need to try again and waste your recharge card, it simply means your result is not yet out.
According to the early publication from Edustuff, the Joint Admission And Matriculation Board won't release the results of the UTME candidates all at once. So kindly be patient.
3. No Record Found
The reply says: No record found. Send an email with NIN and Name to [email protected] means the number you're using to check your JAMB result is not the one you used for registration, make sure you use the number you used for UTME registration.
4. Error Has Occurred
Simply wait for some time and try again, this can occur because of a poor network or when the server is overwhelmed.
NB: The JAMB result checking portal is not yet activated, you can only access your JAMB result via SMS for now.
5. JAMB Sends Another Person's Result
This error is directly from JAMB, if the result that was sent to you contains another person's name, registeration number and subject combinations, it is obviously not yours, don't try again. We hope JAMB will soon correct this glitch.
These are the few errors that you may receive when checking your JAMB result and the solutions have been discussed.
We hope you find this article helpful, if you're still having some difficulties i n checking your JAMB result kindly tell us the problem using the comment section below.