Scholarships For Nigerian Students 2021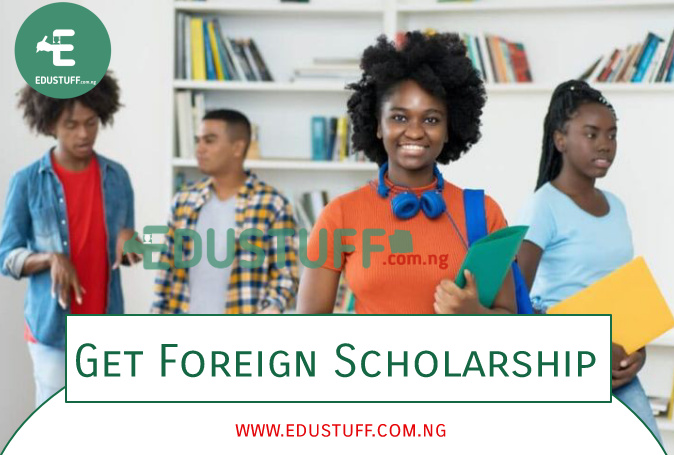 International scholarships for Nigerian students 2021: Do you want to study abroad but can't afford it? Do you know what your next step should be? You might need to apply for an international scholarship for eligible Nigerians; they vary depending on the country and student.
If you're searching around the internet, trying to find a help in applying, here are some of the scholarships for Nigerian students in 2021 that will help you! There's no reason why these scholarships shouldn't be available for students from Nigeria. Let's check International scholarships for Nigerian students:
Many Nigerian parents with limited resources are unable to provide a proper education for their children because they cannot afford school fees or even buy books for their children.
It is really sad to know that in this present-day education has become a luxury, where only those who can afford it are able to pursue it. Many children are deprived of the basic needs that enable them to pass through their early years in school.
It does not matter if you are a graduate or not, this post is all about international scholarships for both graduates and undergraduates in Nigeria.
Best International scholarships for Nigerian students 2021
1. Hubert Humphrey Fellowships in USA for International Students
If you are a talented international student with an interest in public service, please consider applying for the Hubert Humphrey Fellowships. Offered by Fulbright-FASP, these fellowships offer unique opportunities to excel in your chosen career and receive world-class training from experienced professionals.

Offering full funding undergraduates and graduates for up to one year of postgraduate study or work experience, this prestigious program will allow you to develop key skills and experience that can be used for the rest of your life.
The Fellowship provides:
Payment of tuition and tuition fees to the assigned host university;
Pre-academic English language training, if required;
Alimony (housing) allowance, including a one-off settlement allowance;
Accident and sickness coverage;
A book allowance;
A one-off computer subsidy;
Air travel (international travel to and from the US for the program and domestic travel to required program events);
A professional development grant for professional activities, such as field trips, professional visits and conferences.
Requirements for Hubert Humphrey Fellowships in USA for International Students
An undergraduate (first university) degree,
Minimum of five years of full-time, professional experience
Limited or no previous experience in the United States,
Demonstrable leadership qualities,
A track record in the community, and
Knowledge of English
Please Contact the U.S. Embassy, ​​Department of Public Affairs, or Fulbright Commission in your country of residence for more information about possible specific program requirements
2. Postgraduate Economics Scholarship for African Students at the University of Sussex in UK, 2021
This is about postgraduate economics scholarships awarded by the University of Sussex in UK. This scholarship is intended for undergraduate students pursuing any degree with the intention of studying economics, but also suitable for other related courses.
The University of Sussex offers 60 scholarships over 4 years to study Economics at the University. Scholarships are available for all levels: MSc and PhD candidates, as well as those engaged in higher-level undergraduate study. The scholarships cover the full cost of living at Sussex, including tuition fees and maintenance for a single person, as well as a maintenance allowance of £8,000 for couples.
Scholarships are available for Nigerians and other countries for one year on a full-time basis, with 35% of places in any given year being reserved specifically to support potential students from outside the UK. Opportunities are also available for one-year part-time study on the MSc course.
The University of Sussex provides education of international standing to build a creative and innovative society. It is ranked among the top 100 universities in the world and has been recognised for its innovative, entrepreneurial approach to teaching economics.
At Sussex, economics is taught through Economics at Brighton and Technology in Society (EATS), which bridges business and technology approaches to economics with academic rigour.
Scholarship Award
A fee waiver of £15,100, including a maintenance fee of £10,000. This scholarship consists full payment of the overseas tuition fees and a maintenance grant of £10,000. However, it does not include travel expenses to and from the United Kingdom.
Host
The University of Sussex PhD Economics Scholarship is being taken care of by economics alumni and the Department of Economics at the University of Sussex, UK, and is to be taken in the United Kingdom.
Eligibility
The University of Sussex Scholarship is open to all students from any of the following Sub-Saharan African countries:
Angola, Benin, Botswana, Burkina Faso, Burundi, Cameroon, Congo, Ivory Coast, Democratic Republic of the Congo, Ethiopia, Ghana, Kenya, Lesotho, Liberia, Malawi, Mali, Mozambique, Namibia, Nigeria, Rwanda, Senegal, Sierra Leone, Sudan, South Sudan, Swaziland, Tanzania, Togo, Uganda, Zambia and Zimbabwe.
3. Japanese Government Scholarships for Undergraduate, Research & Masters International Students 2021
If you are a Nigerian student and want to study in Japan, there are several scholarships available. we will focus on one called the Japanese Government Scholarships (JGS) for undergraduate, research and masters international students.
This scholarship provides full tuition fee scholarships to undertake a full-time degree at a Japanese university. What is also great about this scholarship is that it covers travel expenses including airfare, living expenses and other miscellaneous costs for up to 12 months.
Japanese Government Scholarships are currently accepting applications for the Undergraduate, Research & Masters International Students 2021, as an Nigerian, you are eligible and welcome to apply here (http://www.ng.emb-japan.go.jp/culture.html#MEXT2017).
Thanks for reading.