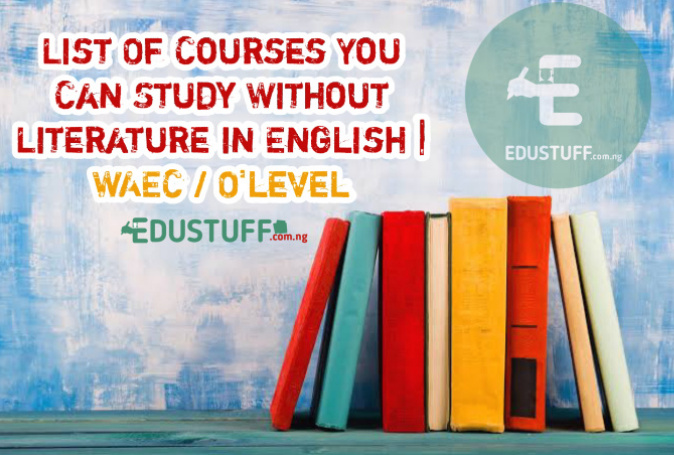 Art courses you can study without Literature in English / D7, E8 – Literature in English is one of the important subjects for Art students but at the same time we have some Art courses that doesn't require Literature in O'level result / WAEC.
A lot of Art students failed to secure admission because they don't have credit in Literature, this article will show you some major art courses you can study without the subject.
Even though Literature in English is a major Art subject, most of the students do fail the subject in their SSCE due to few reasons, you can check the article below for that.
This page answers:
What You'll Learn in this Post
what art course can i study without Literature?
what art course can i study with d7 in literature?
There many Art courses you can study without Literature, with d7 or E8
List Art Courses You Can Study Without Literature in O'level / WAEC
Philosophy
Archaeology
Guidance and Counceling
Christian Religious Studies
Comparative Religious Studies
Creative and visual arts
Economics
Environmental Science
Fine and Applied Arts
Fulfulde
Geography
Arabic Language
Arabic studies
History
History and Archaeology
History and diplomacy
History and diplomatic studies
History and International Relations
History and international studies
History and strategic studies
International and Comparative Politics
International Relations and diplomacy
International studies and diplomacy
Islamic Studies
Philosophy and Religious studies
Political Science
Visual and Applied Arts
Yoruba and Communication Art
Psychology
Religious study
Sociology
Sociology and Anthropology
Theology
Anthropology
can i study psychology without literature?
Yes, you can study Psychology without Literature
is literature compulsory for psychology?
No, Literature isn't compulsory, you need at least; Government, English Language, Biology, Any other 3 subjects, At least a pass in Mathematics is required, A trade subject.
Thanks for reading, good luck.
Source: Edustuff