What You'll Learn in this Post
Oyo State Civil Service Commission Competition 2021
Oyo State Civil Service Commission competition 2021 into the Administrative Cadres (Admission Officer & Other Departmental Cadres) will commence in January, 2021.
A qualifying written examination will be conducted by the Administrative Staff college of Nigeria (ASCON) Topo, Badagry.
Eligiblity
Candidates must have:
Bachelor's degree in any of the discipline listed below
Social Sciences
Humanities
Law
Agricultural Sciences
Accountancy and other related field
Candidate who are sitting for the examination leading to any of the aforementioned qualifications in 2021 should have the understanding that if they fail to secure appropriate qualifications, they will be automatically drop out of the competition.
Subjects for the Examination
The Examination will consist of five(5) papers namely;
English Language(Essay/ Comprehension)
Logical Thinking
Basic Statistics, and
General knowledge papers I and ii ( Essay and Objectives)
Examination Date:
Thursday, 28th – Friday, 29th January, 2021
Venue:
Government college, Apata, Ibadan.
How To Apply For Oyo State Civil Service Commission Competition 2021
Interested candidates will have to pay a non-refundable examination fee of #7,500 (Seven Thousand, five hundred naira).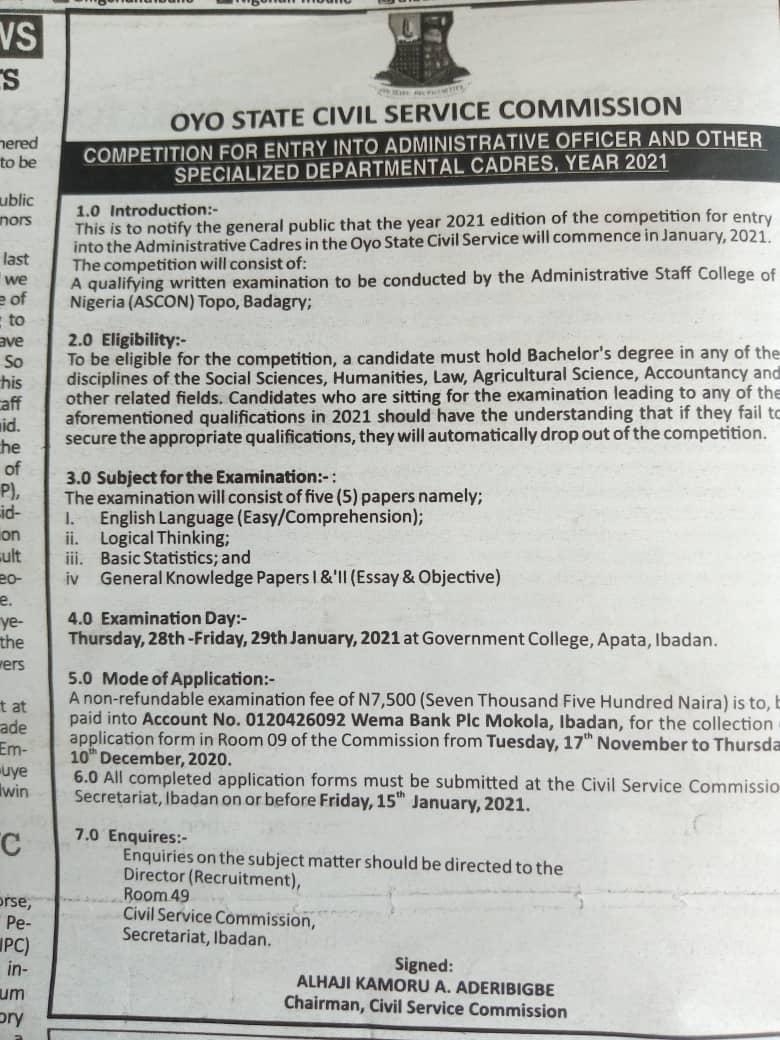 The amount will be paid into:
Account No. 0120426092
Wema Bank Plc
Visit Mokola Ibadan, for the collection of Application form in room 09 of the commission on Tuesday, 17th November to Thursday 10th December, 2020.
All completed application form must be submitted at the Civil Service Commission Secretariat, Ibadan on or before Friday 15th January, 2021
Enquiries of the subject matters should be Directed to the Director (Recruitment),
Room 49
Civil Service Commission,
Secretariat, Ibadan.