Nigerian Economic Summit Group Essay Contest 2021: The Nigerian Economic Summit Group (NESG) has announced the #NES27 Essay Contest theme: "Securing Our Future: The Fierce Urgency of Now."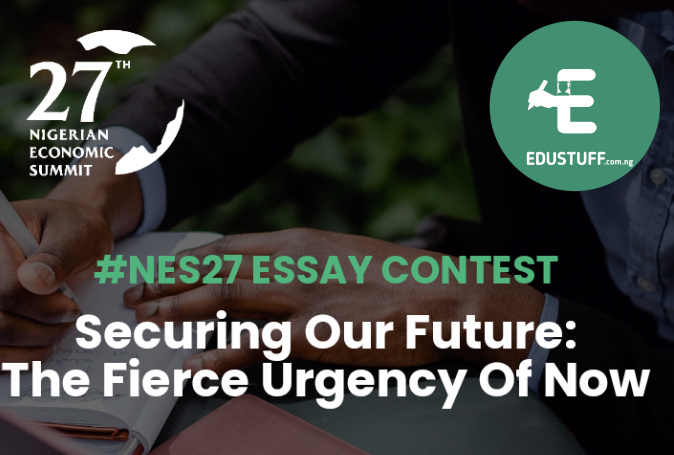 Nigeria has the potential to become a continental and global force that influences economics and policies, with a market of over 200 million people, coastal access to assist trade, and enormous human and natural resources.
Nigeria's socioeconomic potential has a lot of promise. Today's headlines, however, do not reflect Nigeria's economic potential. Rather, they focus on insecurity, unemployment, poverty, insurgency, inflation, and general unease.
This is a request for new solutions that clearly highlight the need for a joint response from all stakeholders (government at all levels, corporate sector, and civil society) in order to secure the future of our beloved country.
About Nigerian Economic Summit (NES)
The Nigerian Economic Summit (NES) was founded in 1993 by a group of passionate and concerned private sector leaders representing key economic sectors with the goal of bringing together private sector leaders and senior government officials to discuss and dialogue on the future of the Nigerian economy.
The NESG Bridge Fellowship is intended to inspire and empower a new generation of young visionary Nigerian leaders with the knowledge and skills necessary to conduct policy-oriented research and advocacy for national development. Selected participants will go through a rigorous and engaging capacity development process that will allow them to contribute to national knowledge creation and policy.
Aim and Benefits of NESG
Paid internship at the NESG
Prestigious certificate of achievement
Essay summary presentation to an audience of top public and private authorities at the #NES27 Top 50 Students
Who can participate in NESG #NES27 Essay Contest? Nigerian Economic Summit Group Essay Contest
The essay competition is available to all Nigerian undergraduates between the ages of 16 and 25 who are enrolled in any higher education institution in Nigeria or overseas.
Requirements For Nigerian Economic Summit Group Essay Contest
Entries must be written in English
One entry per student
1,500 maximum word count
Plagiarism is not accepted
100-word summary of your essay
15 second summary video of written essay
How to Apply for Nigerian Economic Summit Group Essay Contest
Kindly visit the NESG official website via https://www.nesgroup.org/27/essay or more details
Deadline for Essay submission: 3rd October, 2021
Top 3 Students:
Paid internship at the NESG
Prestigous certificate of performance
Essay summary presentation to an audience of top public/private officials at #NES27
Top 50 Students:
Virtual tickets to attend the 27th Nigerian Economic Summit, October 25-26, 2021
Thanks for reading, good luck.
Looking for international scholarships, want to know exactly what you need to do to finally be a success with scholarships and apply for available opportunities? Click HERE to start now with ScholarshipReg.


Don't hesitate to like, share this article using any of the Social media share buttons and drop a comment in the section below.