Gulder Ultimate Search Registration Website 2021: Check the Gulder Ultimate Search portal gulderultimatesearch.ng and register, SEASON 12 ACKNOWLEDGEMENT OF TERMS & CONDITIONS.
Gulder Ultimate Search Registration Website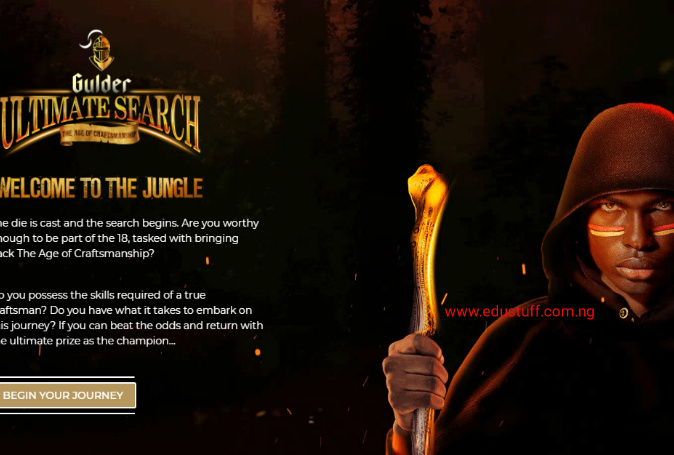 Before your adventure begins, you need to do the following:
Prepare your bio-data.
Be ready to take an aptitude test.
Get a recent half frame picture of yourself taken against a plain black background.
Prepare a 1 minute, full frame video of yourself stating why you should participate in this year's Gulder 2021 Ultimate search.
HINTS:
Make sure all your information is correct before moving on to the next step.
Do not refresh your browser while completing the application to avoid losing your information, otherwise your application progress will be lost and you must start again
How to Register for Gulder Ultimate Search 2021
To register for the 2021 Gulder Ultimate Search visit the registration portal via https://www.gulderultimatesearch.ng
Fill in the requested details: Full name, Phone number, Email address, Date of birth, Height, Weight, History of medical challenges if there is AND allergy etc.
You will be directed to a page for brain teaser after filling in your personal details.
Gulder Ultimate Search Registration Question and Answers
On the next page you will be required to answer a few questions accurately. Please note the following:
There are 3 questions in total.
Each question lasts 30 secs
After answering the questions:
Upload an image of you (3mb or less) – Picture should be half frame taken against a plain background.
Upload a one minute full frame video of yourself stating why you should participate in this year's Gulder Ultimate Search.

Remember to show your fitness level.
Video should not be more than 10mb.
Thanks for reading, click here for more info or Gulder Ultimate Search 2021 Registration Form Website | See How To Apply for GUS Now.
Good luck.
Looking for international scholarships, want to know exactly what you need to do to finally be a success with scholarships and apply for available opportunities? Click HERE to start now with ScholarshipReg.


Don't hesitate to like, share this article using any of the Social media share buttons and drop a comment in the section below.