eNaira Wallet App Download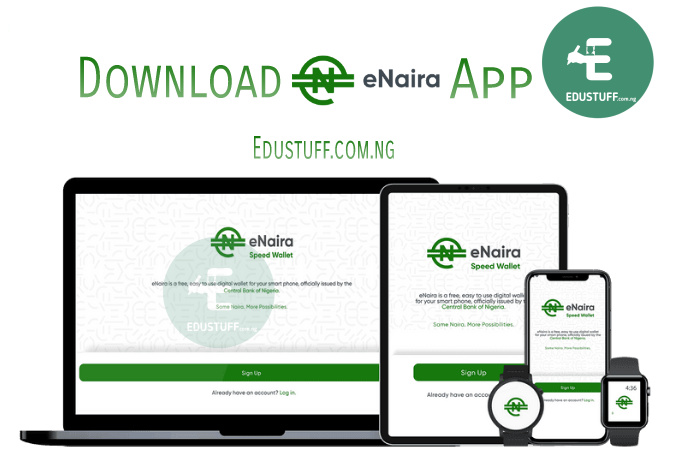 Download eNaira Wallet App: This page will show you how to download eNaira App for free, furthermore, Edustuff will also teach you how to fund eNaira wallet.
What is eNaira Wallet?
The eNaira Wallet is a digital storage which allows you to hold your central bank digital currency (CBDC).
eNaira Wallet app will be released on October 1, 2021 and it will be available on Google Playstore and Apple Store.
How to Download eNaira Wallet App
To download the eNaira App search for eNaira Speed wallet on Google Play Store or Apple Store or click here to download from eNaira website.
How to Fund eNaira Wallet
Funding from an account from Same bank:

Login into your regular bank app.
Initiate transfer to your eNaira wallet tied to the bank account on that bank.
Get notification on your eNaira wallet.

Funding from an account from different bank: 

Login to your regular bank app.
Initiate transfer to your eNaira wallet by selecting your eNaira wallet (tied to the other bank different from the fund source).
Get notification for the alert in your e-wallet.

Cash to eNaira wallet:

Cash holder hands over cash to an eNaira verification agent/Bank branch/SANEF.
Agent login to eNaira wallet.
Transfer cash equivalent to consumer's eNaira wallet.
Fund owner receive notification.

Foreign exchange to eNaira wallet:

Diaspora regular account holder log in to your customer FX bank account (e.g., HSBC).
Transfer funds into International Money Transfer Operators' (IMTO) FX bank account (e.g., Barclays, Western Union).
Login to your IMTO eNaira wallet.
Transfer from IMTO eNaira wallet to consumer eNaira wallet.
Beneficiary receive notification.
Recommended: eNaira Cryptocurrency (CBDC): How To Create Wallet, Website, Price, App Download Free
The eNaira Wallet app uses a two-factor authentication system in addition to cryptographic encryption to secure the users.
Thanks for reading.
SOURCE: Edustuff
Looking for international scholarships, want to know exactly what you need to do to finally be a success with scholarships and apply for available opportunities? Click HERE to start now with ScholarshipReg.


Don't hesitate to like, share this article using any of the Social media share buttons and drop a comment in the section below.