NAITES (NACEST) Part-Time & Certificate Admission Form 2020/2021 Is Out
NAITES (NACEST) Part-Time: Interested and qualified applicants are to be notified that NAITES (NACEST) Part-Time & certificate admission form 2020/2021 has been released, Nigerian Army College of Environmental Science and Technology (NACEST), Makurdi has started the sale of admission form into the various part-time / weekend National Diploma and Certificate programmes for both Military, Paramilitary and Civilians.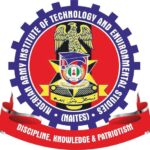 NAITES (NACEST) Part-Time & Certificate Admission Form 2020/2021
Available Courses
a. ND Part-Time (Weekend)
Accounting
Banking & Finance
Business Administration and Management
Computer Science
Estate Management & Evaluation
Public Administration
Quantity Surveying
Civil Engineering Technology
Electrical and Electronics Engineering Technology
Computer Engineering Technology
Building Technology
b. Certificate Programmes for 3 Months, 6Months and 9Months
Drones and Unmanned Aerial Vehicle
Computer Technology (Maintenance 8 Repairs)
Computer Application (MS WORD. EXCEL. ACCESS)
Film and Media Production
Fashion and Design
Confectionery and Cookery
Sandcret Works and Block Moulding
Basic French
Conflict Resolution and Management
Peace and Conflict Resolution
Health Safety and Environment
Security Management
PRICE
National Diploma: N5,000
Certificate Programme: N2,500.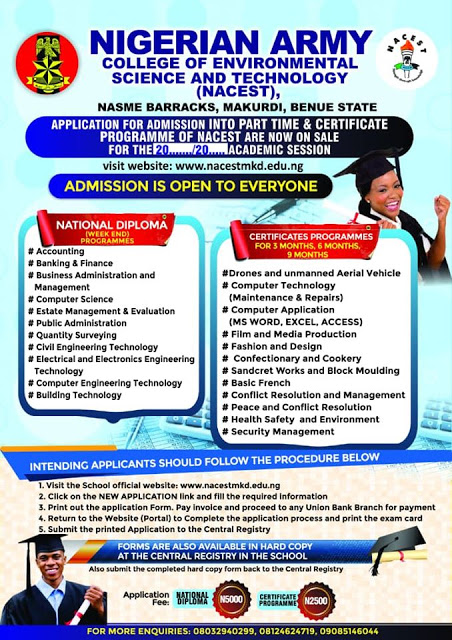 Also read: NAITES Post-UTME Admission Form For 2020/2021 ND Full-Time Is Out
HOW TO APPLY
1. Visit the School official website via nacestmkd.edu.ng
2. Click on the NEW APPLICATION link and fill the required Information
3. Print out the application Form
4. Pay Invoice and proceed to any Union Bank Branch for payment
5. Return to the Website (Portal) to Complete the application process and print the exam card
6. Submit the printed Application to the Central Registry
FORMS ARE ALSO AVAILABLE IN HARD COPY AT THE CENTRAL REGISTRY IN THE SCHOOL
Also submit the completed hard copy form back to the Central Registry
FOR MORE ENQUIRIES: 08032940299, 08124624719, 09085146044
Deadline
Not Stated.