What You'll Learn in this Post
Jumia Black Friday 2021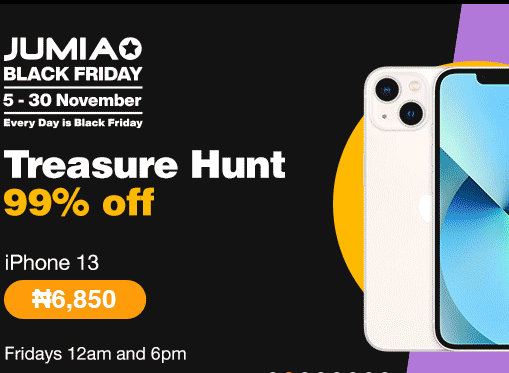 Jumia Black Friday 2021: This article will show you all you need to know about the 2021 Jumia Black Friday, Edustuff will show you how to order on Jumia Black Friday, available offers and deals, Jumia Black Friday 2021 Date and price list.
First I will tell you what Black Friday means, Every year, Black Friday has been the busiest shopping day of the year. In the United States, the Friday following Thanksgiving Day is known as Black Friday. On Black Friday, many retailers offer heavily advertised bargains and open early or late on Thanksgiving Day.
What is Jumia Black Friday?
As Black Friday has been the busiest shopping day every year, Jumia Black Friday is the biggest sale of the year, with huge discounts available to both new and existing customers on a wide range of products.
Jumia Black Friday 2021 Date?
Jumia Black Friday 2021 is set to begin on 5th to 30th November. Starting November 5th, all of the hottest Black Friday offers will be in one place. Jumia Black Friday 2021 is expected to be better than ever, as the company celebrates its profit season for the first time.
Jumia Black Friday 2021 Offers/Deals
Free Jumia Vouchers
Jumia Flash Sales Deals
Jumia Wheel of Fortune
Exclusive Daily Deals
Jumia Black Friday Treasure Hunt (Up To 99% Off)
Jumia Giveaway
Exclusive Discount Offers Every Friday
Jumia Black Friday for Phones Offer 2021
Amazing Discounts Every Monday to Thursday

Weekends Deals
Free Jumia Voucher: What are Vouchers? A voucher can also refer to a document that can be redeemed for a good or service, such as a coupon or a ticket, with Jumia Voucher you can save up to N2,000 on every item you buy.
Click To Get Jumia Free Voucher
Jumia Flash Sales Deals: This fantastic discount offer every day at a specific moment during the Black Friday period, spanning all product categories.
Because the items are in short supply, they are referred to as flash sales. During the flash sales, you will be able to choose from a variety of things across all categories. Clink the image link below to access:
Jumia Wheel of Fortune:
The Jumia Wheel of Fortune is a revolving wheel game with arrows indicating victory, loss, or percentage discount.
To begin, download the Jumia App, then open the page on the Jumia App and click on SPIN.
Winners must take a screenshot of the item on which the wheel of fortune lands and share it to Facebook with the hashtag #SpinandWindate. For example, #SpinandWin.
Following that, you must get your friends and relatives to like your post, with a minimum of 2000 likes, the post with the most likes wins and the winner will be revealed the next day.
Exclusive Daily Deals: Huge reductions will be available across all product categories for customers, click image below to get yours:
Jumia Black Friday Treasure Hunt (Up To 99% Off): Customers of JUMIA are encouraged to look for a Treasure, which is usually a product that is almost free at 99 percent off and concealed randomly on the website (for example, an iPhone 13 might be buried in the Furniture category under the name "Pots") and sold for example for #250 Naira. Whoever discovers it is the winner. A set of rules usually governs the game. Click here to start.
Jumia Giveaway: We all like giveaways but Jumia giveaway is a special one which you must not miss. Customers, both new and old, may expect a Daily Live Giveaway.
To qualify, simply enter your phone number on the app page, learn more about the products on the app page, and read the details. If your phone number is chosen, you will be asked to answer questions about the products on the App Page; if you correctly answer, you will WIN!
Exclusive Discount Offers Every Friday: It is Black Friday, Jumia has made it easier to take advantage of the best Black Friday discounts online by offering cheap gadgets, household items, and trendy clothing. Click image below to start:
Jumia Black Friday for Phones Offer 2021: This is time to get that phone you wish for, with up to 50% off discount offers, you may be sure to buy your favorite device at a reasonable price. More SmartPhone offers can be found at the link below.
Click For Black Friday Phone Deals
or
Amazing Discounts Every Monday to Thursday:
Expect massive discounts across all categories from Monday to Thursday on Black Friday.
The following are some of the things to look forward to:
When you use JumiaPay with the Jumia Mobile App, you can get free delivery on your purchases between 9 a.m. and 10 a.m.
Every two hours between 10 a.m. and 5 p.m., 16 Super Hot Flash Sales with discounts of up to 70% will be offered.
Kindly use this Black Friday season to get most of the things you want to buy wiyh huge discount offer from Jumia, click on any of the JUMIA banners or link to enjoy deals.
If you don't have the Jumia mobile app you may need to download it if you don't want to use the web version, click Here to download the Jumia Black Friday application: Download Now
How To Order On Jumia Black Friday 2021
To purchase a product, simply click on it.
Select "Add To Cart" from the drop-down menu.
If you want to add insurance, click Add Insurance or No Button to go to the next page.
If you still wish to shop, click the "Proceed to checkout" or "Continue Shopping" buttons.
Sign in to Jumia or create an account if you're a new user, using your email or Facebook account.
Choose how you want your order to be delivered (Door delivery or Jumia pick up station).
Go to the payment method page.
If a coupon is available, use it.
Thanks for reading this article.