7 Ways To Get A's In WAEC Easily
Every student will want to pass his/her WAEC examination that's why you will learn the 7 Ways to get A's in WAEC easily in this article without stress, it will guide and help you in preparing for the important examination.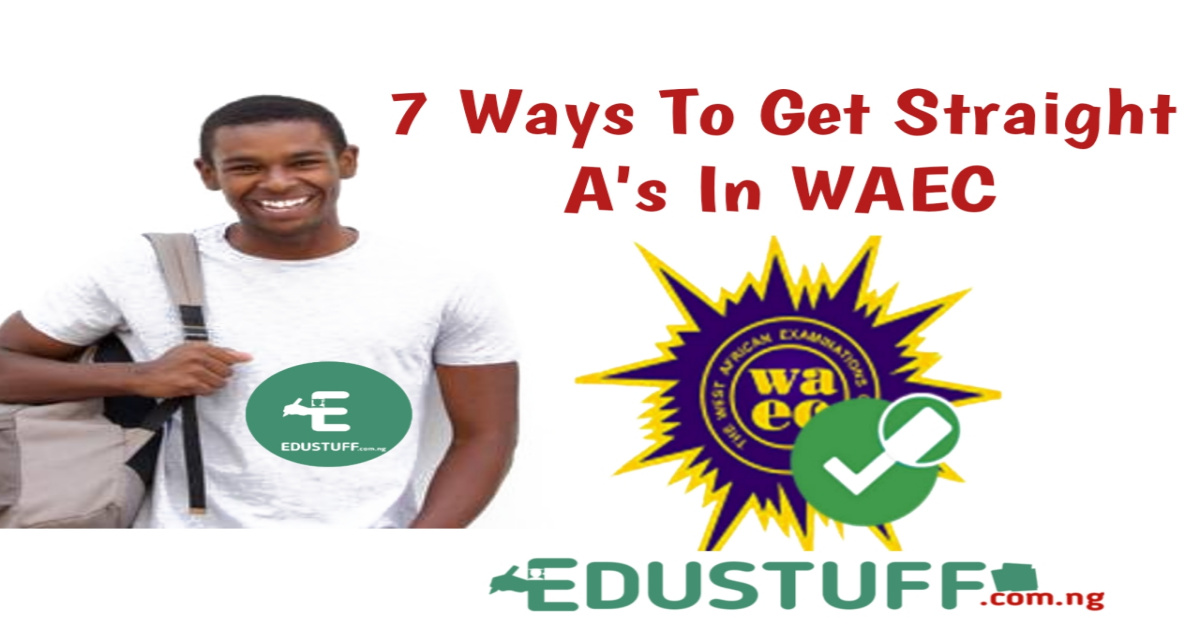 7 Ways To Get A's In WAEC
Be calm
Fix A Time To Study
Get WACE Syllabus and Past Questions
Leave Your Comfort Zone
Study With Your Friends
Find WAEC online Tutorial
Dedication
Be calm
Most of WAEC candidates get nervous when the examination is near most especially if the WAEC timetable is out and I can relate the nervousness to fear, it can be the fear of failure or the fear of not studying enough but most times you've nothing to fear about you're just nervous and you need to stop it. Keep calm and keep preparing for the examination.
Fix A Time To Study
Schedule a particular time to study is one of the most important things WAEC students need to do but most of the students underestimate the tip. Fix a time and make it a routine it will automatically program your brain and believe me you'll start to know what you're studying faster, it will even give you a good memory to remember what you've learnt.
Get WACE Syllabus and Past Questions
You need to study with the right materials so you need to get WAEC official syllabus and past questions. The WAEC syllabus will show you how WAEC do set their questions and the topics they do set it from.
The past questions keep you familiar with the ways WAEC set their questions, WAEC time duration and more, it will be really helpful.
Leave Your Comfort Zone
It is a big distraction, it will let you procrastinate, thinking much while doing nothing. Leave your comfort zone and train yourself to study hard, you need to pass the WAEC examination and you'll only get it easy if you work hard and follow the 7 ways to get A's in WAEC.
Study With Your Friends
Brainstorming is a good idea, most especially with your friends who will also sit for the examination, read together and brainstorm, ask yourselves questions and teach yourselves new things, studying with your serious friends is really good.
Find WAEC Online Tutorial
Apart from schooling or any other tutorial you attend, if you're using a smart phone you can find a WhatsApp group mainly for WAEC online tutorial you'll meet students and will answer questions freely, you can also get WAEC past questions air syllabus easily by asking the group members or administrator. Check WAEC tutorial group here.
Dedication
You must be dedicated, set a goal and program your mind positively, be courageous, dedicate your time to study and you'll be able to pass WAEC examination without stress, failure to prepare is the preparation to fail, always remember that.
Also read: WAEC 2020 Examination Timetable Is Out (UPDATED)
Why You Need To Pass WAEC
You must pass WAEC examination so that you'll have a chance to secure admission into a good tertiary institution of your choice in Nigeria, it will also help you your desired course.
Make sure you've good grades in your WAEC it will
increase your O'level result points which will be used in your admission process too with you JAMB score and Post UTME score or point.
Also read: 12 Ways To Pass JAMB 2020 Examination
How To Answer WAEC Questions 2020 And Pass
I hope you enjoy reading this, why can't you use the the social media sharing button on your link to share to people, don't forget to use the comment box below to ask us questions of any kind. Thanks for reading my article don't forget to bookmark our page.